EVERYTHING YOU NEED TO KNOW ABOUT MICROBLADING
Microblading is all the rage right now in the fashion & beauty world.  Admittedly, that's not MY world but I am all about simplifying and systematizing my life to save time.  Efficiency is everything in our biz (and lives).  The last thing I want to do is spend time I don't have to in my daily life on things like hair, make-up and filling in my brows.  It's been several months since my microblading experience and I'm fully healed.  So, today I'm sharing everything you need to know about microblading.
'Cuz I know you've got questions (our inbox has been full of them)!
We've taken some big strides in the past year to systematize our lives (more on that later). A big part of that is minimizing the time it takes me to get ready in the morning.  I've been neck-deep in systems and processes that SAVE ME TIME and keep me camera-ready without too much effort.
[feature_box style="23″ only_advanced="There%20are%20no%20title%20options%20for%20the%20choosen%20style" alignment="center"]
SIDE NOTE: You're perfect the way you are!  If wearing sweats, no make-up and your hair in a pony makes you feel amazing and unstoppable – keep doing that.  This is about ME feeling great on camera and I happen to like looking "effortlessly put together" without spending a ton of time getting ready.  You do you, boo!
[/feature_box]
Some of the systems I swear by when it comes to my self-care:
Hair: I've been working closely with my stylist for years and we focus on colors and cuts that are super low maintenance (like Ombre) so that even when it's "growing out", my hair looks great.
Nails: I couldn't live without shellac and/or gel.  I'm not talking about extensions (that's way too much work for me) but having my nails manicured all the time is key.  Shellac and gel both last weeks on my which saves me having to worry about painting my nails and then chipping the paint.  So yes, I visit the salon every 4-6 weeks for nails. #sorrynotsorry
Lashes: If you can, I'd highly recommend extensions.  I haven't found a product that doesn't break my lashes off BUT when I did have them, I LOVED them.  You look like you've got make-up on all the time!
Capsule Wardrobe: This is still in progress but OMG it's made a world of difference in how much time we spend getting ready.
And finally…Brows.  This is what we're here to talk about today.
I've been unhappy with my brows for as long as I can remember.  All of my features are fair – blond hair, fair lashes, and blond brows.  They're also slow-growing (you'd think that would be a good thing) and patchy thanks to a good-sized scar in my left brow.  So, I spend a good amount of time filling them in each day so that I have something to frame my face!

WHAT IS MICROBLADING?
Microblading is, in essence, a semi-permanent tattoo of individual hair strokes to create the look of fuller or more shapely brows.  A tech uses a small blade-like tool to make tiny incisions that are filled with ink.  The ink sits only just below the surface so, unlike permanent tattoos, the microblading will only last 8 months – 2 years (give or take).  Basically, it's architecture for your brows!  Each set of brows (if you're with a pro) is designed specifically for the shape of your face.
WHAT TO EXPECT AT YOUR MICROBLADING APPOINTMENT
Microblading is an investment as well as a commitment.  As such, takes several appointments to complete.  Be prepared for a minimum of 3 appointments with your tech. If you've been wondering how the process works, here's a step by step of everything you need to know about microblading.
INITIAL CONSULT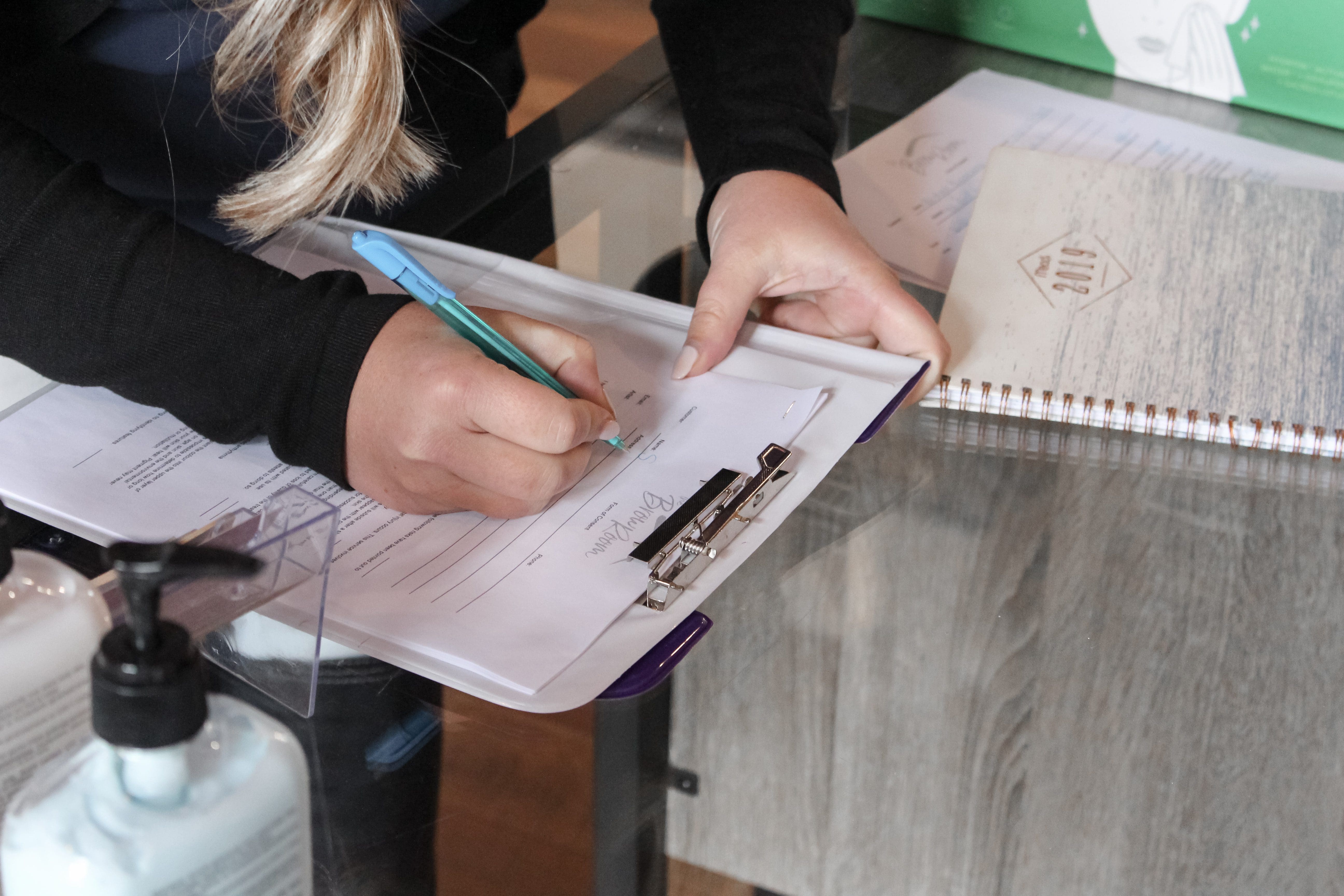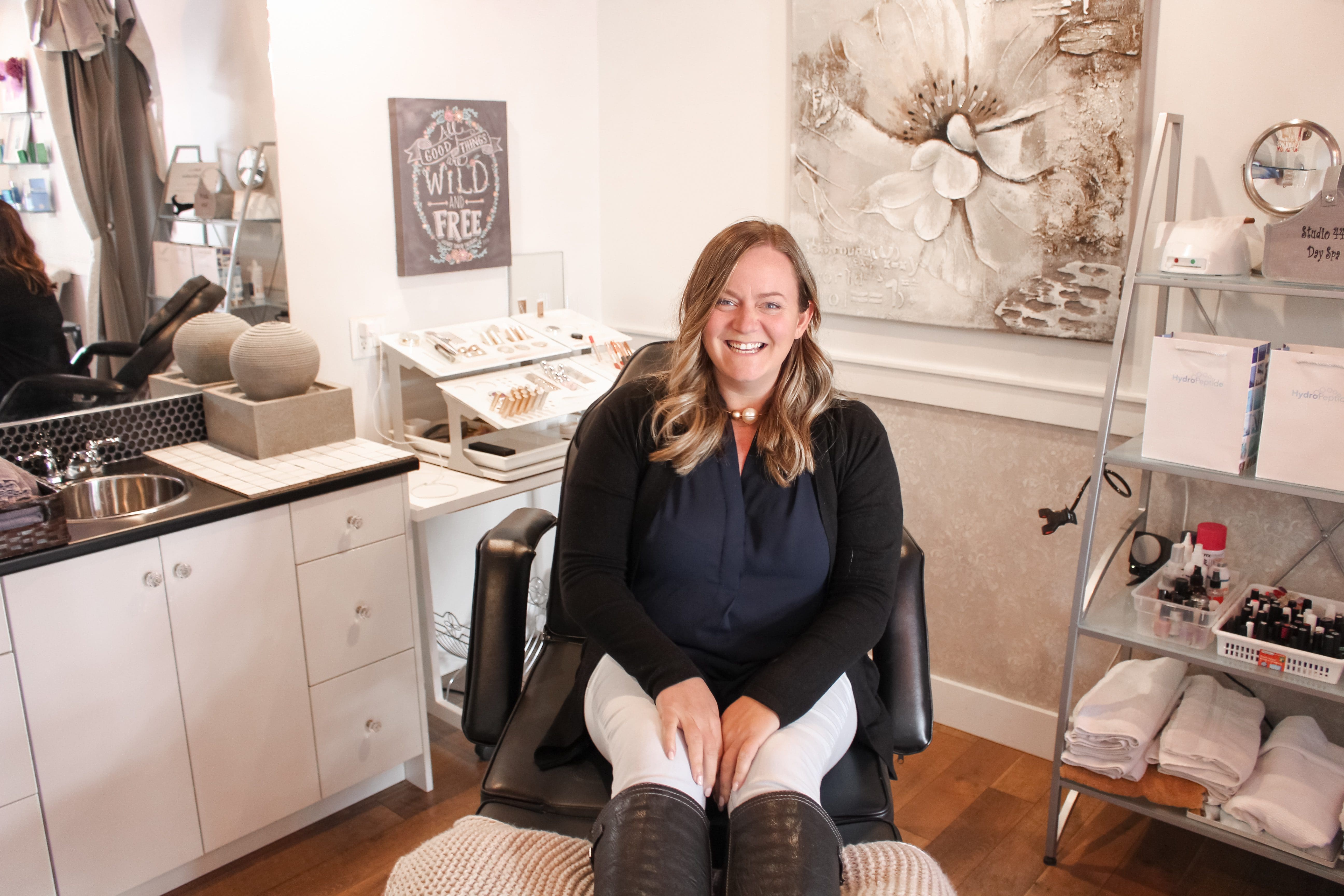 Our first visit with Erin was an initial consult to determine if microblading was a good idea for me.  I love that this is part of the process.  As someone who's wasted a lot of money on services that "didn't take" (ahem…laser hair removal) I appreciate the due diligence.
Erin cleaned up my brows and took a close look to make sure I was a candidate for the procedure.  She walked me through the process, had me sign the consent forms and waiver and gave me a break-down of what to expect.  This appointment only took about 15 minutes.
FIRST MICROBLADING SESSION
The next session was the longest and took about 90 minutes.  This will always be the longest session because this is when the bulk of the work is completed on your brows.  Here's how it breaks down:
Step One: Design & Mapping
Erin's first step is to measure and map your face.  She creates a frame or an outline that she'll follow based on a number of different factors:
Shape and size of your face
Your features and how they're situated on your face
The shape and size of brow you're looking for
In my case, I wanted a natural-looking brow that follows my natural shape.  I have a good arch, so we stuck with that.  We chose to just "fill in" the gaps and beef is up a little.
Step Two: Numbing
Next, she scraped my brows a bit, just scratching the surface.  She explained that this allows the numbing gel to really penetrate the surface of my skin (yes please).  The numbing gel is applied and covered, then let sit for a few minutes to take effect.
Step Three: Color Matching
This step is SO specific.  As I've told you, I wanted a brow that looked natural.  My goals was not for people to say "oh, you had your brows done".  Some people want a strong, bold, dark brow – and they look great on some people, but that's not what I wanted.  So my color matching was to the root color of my hair.  Erin is a pro, and since she also specializes in reconstruction she's really good at finding the perfect color.
Step Four: The Microblading
The actual microblading was interesting!  First, because so many of y'all asked me this – Yes, there was some discomfort.  It wasn't unbearable and Erin did apply extra numbing on her second pass but I did find my left eye quite uncomfortable.  Interestingly enough, the right eye didn't hurt at all.  What can I say, I'm weird like that.
I'm told that it's totally normal for one side to smart more than the other.   In my case, Erin started on one side with the outline of my new brow, then switched sides.  On a second pass, she filled in which took less time than I thought it would (so that was a bonus).
The biggest surprise was the sound!  Erin warned me that it would sound like velcro but the best way I can describe it is like an icepick scratching the surface of the ice.  Kind of gross – so just be prepared.
The tool is dipped in pigment and then the incisions are made in short hair-like strokes to give your brows a natural look.  A good tech will go in different directions to match the way your hair would naturally grow.
Step Five: Applying Pigment
Once all the incisions are made, a thick layer of additional pigment is applied to sit.  Honestly, this part hurt more than the actual microblading.  I mean, a bunch of incisions have just been made and now you're rubbing color pigment into those cuts…sooooo, duh.

HEALING & HOME CARE
There are several different methods of healing that vary from technition to technition.  This was actually the part I was most apprehensive about because I'd seen the thick scabs and flakey brows of some friends who'd gone before me.  To my delight, Erin uses a healing process called wet healing.
Rather than keeping your brows completely dry and untouched during healing (something many recommend), Erin perscribes this method:
Gentle Cetaphil wash morning & night (no scrubbing, just a gentle cleanse)
Healing balm applied multiple times a day to promote healing (essential oil based)
Cold compress if they get itchy or irritated
You guys, this was THE BEST.  I had absolutely no scabbing or flaking and my brows healed perfectly!

TOUCH-UP SESSION
After the initial healing (about 4-6 weeks), you return for a touch-up.  In this session, your tech will be able to see how your microblading healed, have a good look at the color & share, and make some adjustments.  We did some extra filling and adjusted the shape of the inside corner of my left eye plus added a bit of additional pigment.
One thing I noticed was that my touch up session felt completely different than the initial one.  As in, it didn't hurt at all which is fully explained below in the FAQ section…so keep reading!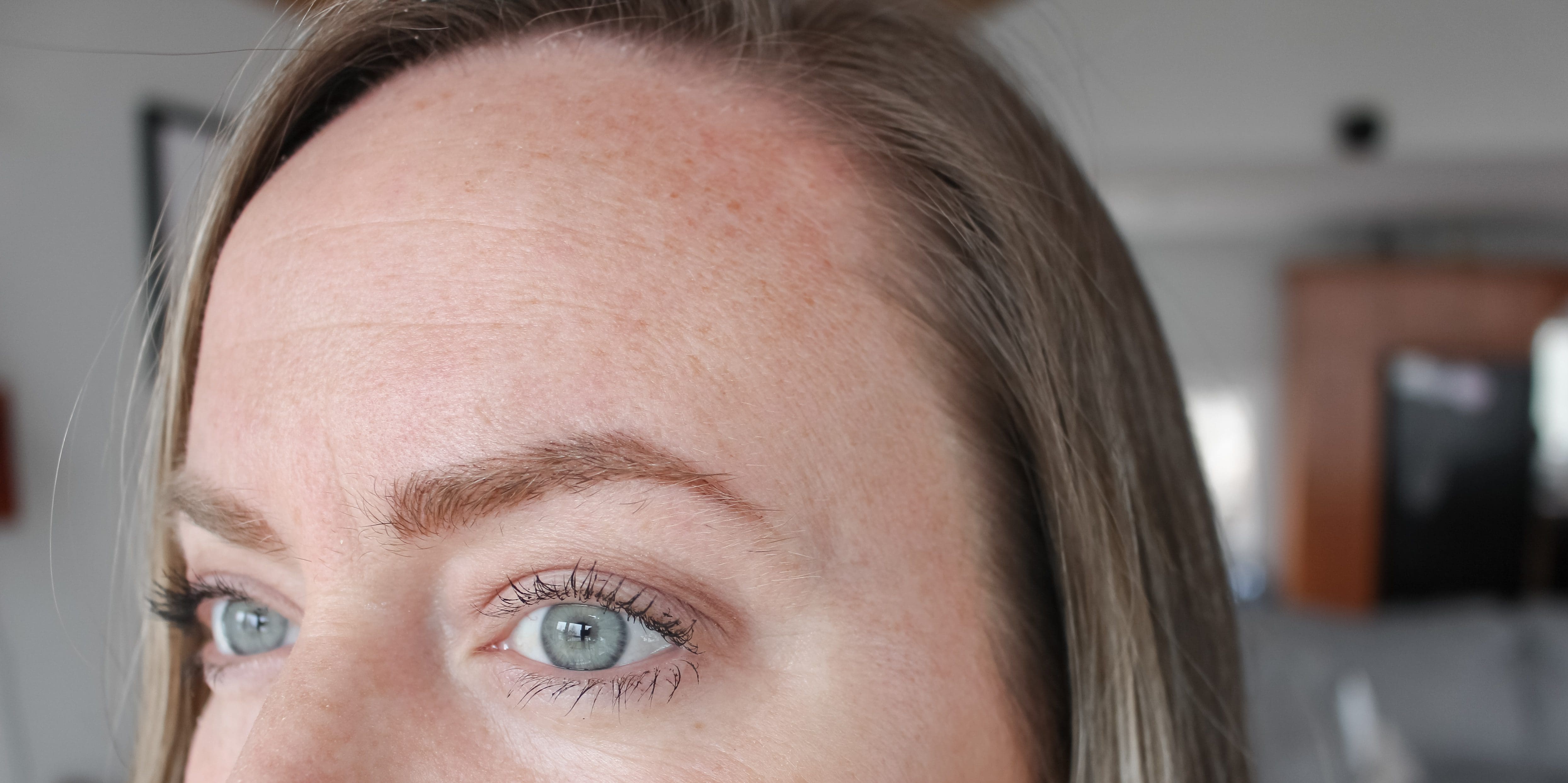 Microblading FAQ's
Y'all had questions, and I took screen shots of every one of them so here are your answers.  Please remember, this is based on my experience with microblading and everyone's will vary.
"Does it hurt?"
Easily the most asked question (it was mine too)!  So here's the truth: my first session did hurt more than I was expecting but only on my left brow.  The right side didn't hurt at all.  My second session (the touch up) didn't hurt at all.  There are all kinds of things that can affect how much or how little microblading hurts.
Here are some factors that can affect the discomfort level:
Time of the month.  Ladies, take it from me.  Don't go on your period!  I made that mistake and there was a clear difference in pain from my first session (on my period) and my second (not).
Thickness of your skin.  I happen to have thick skin (not figuritively – actually) so the incisions needed more depth.
Scar tissue.  Remember I said my left-eye was more painful?  Well, I've got a nasty scar (toothmark from a dog bite when I was young) in my left eyebrow.  So, again, Erin has to "go deeper" over the scare for the pigment to take.
So basically, I was a perfect storm for pain during my first trip!  As I've said, my touch-up didn't hurt a bit.  I've also talked to many others who reported no pain at all during their microblading.  It really varies from person to person.
"How long do they last?"
Up to 2 years but again, it varies.  There are all kinds of factors that impact how long your brows will like.  Age, sun exposure, how quickly your cells regenerate and slough off, etc will all impact how soon you'll need to be re-touched.
"How much does microblading cost?"
You should expect to pay in the neighborhood of $375 (with Erin) for your microblading and touch-up.  I've seen them advertised for less and more but typcially if someone is offering a price below average it means they're new – so that's your choice.  Likewise, someone with a lot of experience can command a higher price.
"Will they look fake or made-up or be super dark?"
Totally up to you!  Some people want that painted-on look but others (like me) are looking for a more natural brow.  One of the reasons I loved working with Erin is because she specializes in natural brows and reconstructions.  For those wondering, a reconstruction is for someone who has none or has lost all of their brows.
Mine look totally real (pics below of the finished product).  I've actually had people tell me they hate the look of microbladed brows and when I say "mine are done" they're shocked!  It's all about the look you want.
"How is the healing process?"
Mine was awesome.  We went with a wet healing protocol which means there was no nasty, thick scabbing to deal with.  They were tender for about 24 hours post procedure but asidr from that, easy peasy.  There was a little bit of itching but a cold compress and the healing balm took care of that.
"Would you do it again?"
That's a HELL YES.  And, I actually might go a little darker next time.  I'm glas we went so natural with mine and I'm super happy with the result but now that I know how I heal, I'd probably get more pigment next time.  So again, yes – I'll go back once mine start to fade.
THE FINISHED PRODUCT
Rather than showing you staged pics, I thought I'd give you a peek at what I look like now in real life.  You'd never know I had my brows microbladed, right?  The other thing I've noticed is that many techs show before and afters in the office which means the brows haven't healed.
When the incisions are open (for the days following the microblading) they appear much larger and darker.  These images will give you a much more realistic idea of what to expect.  These were both taken in the last 2 weeks (I had my microblading done in April).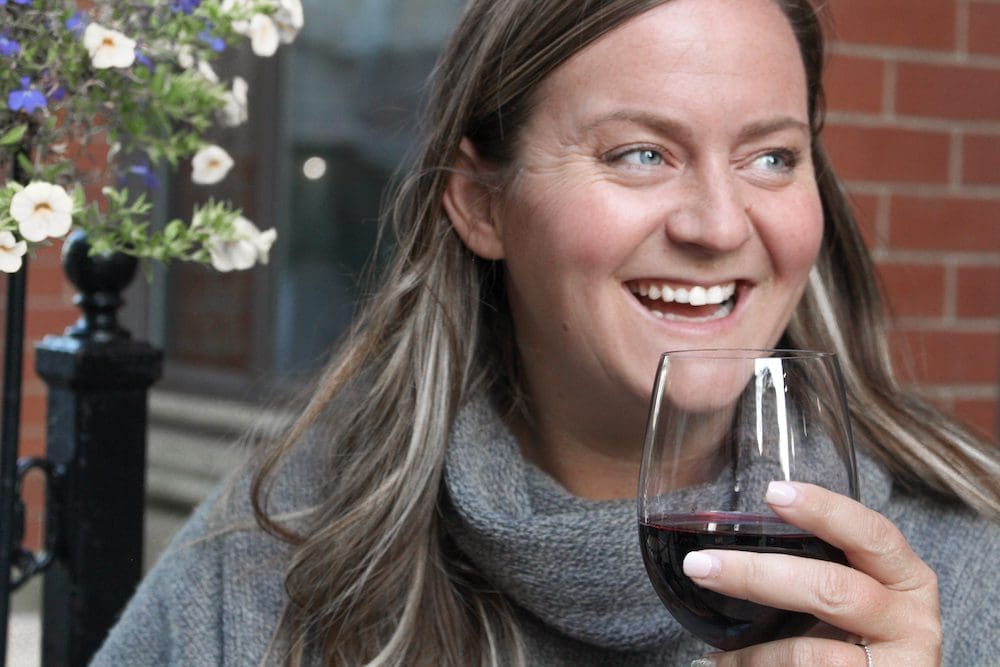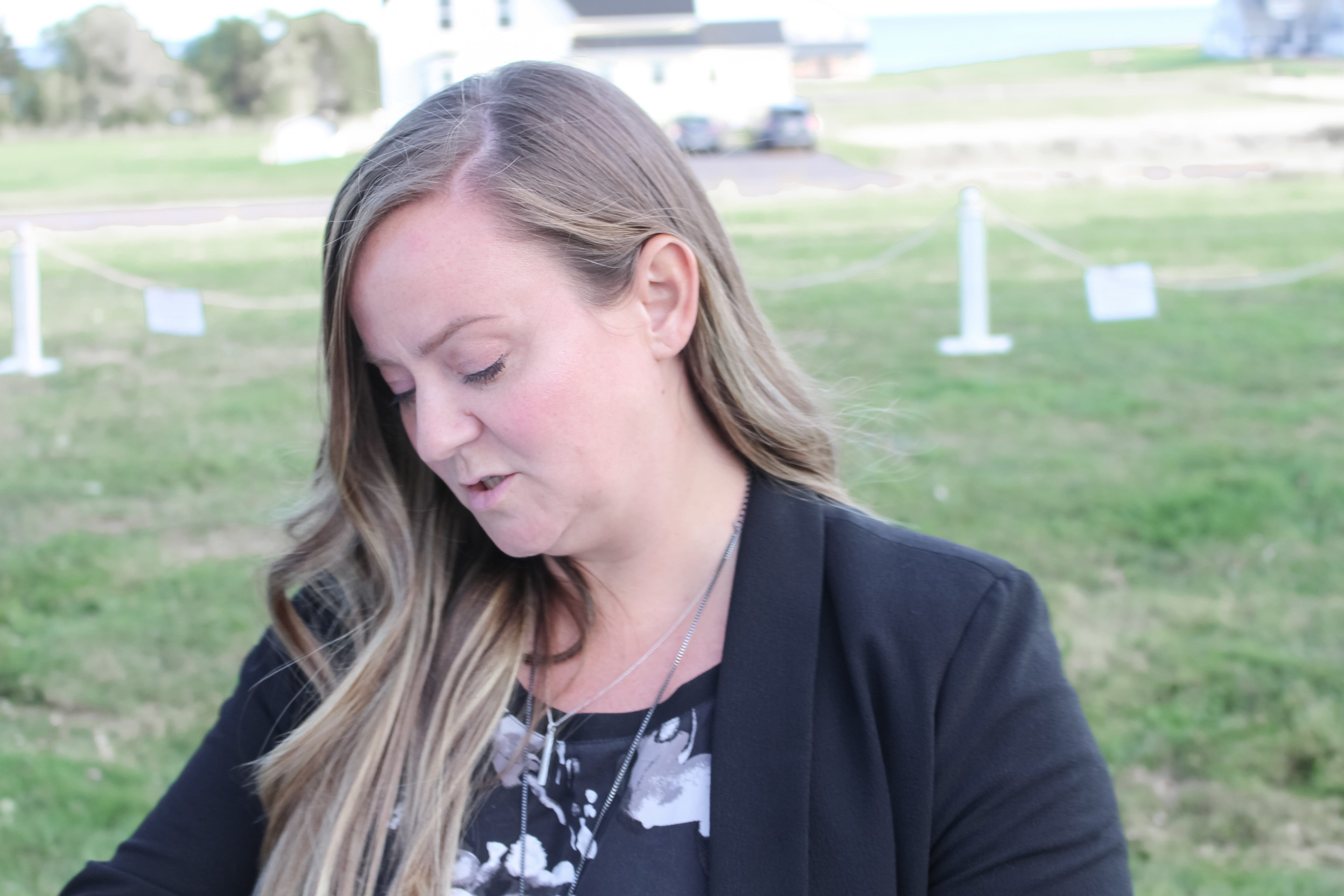 Are you considering microblading?  Did I miss anything you want to know?  Lay it on me in the comments!
*This post was sponsored, in part, by Erin at Brows by Erin Elizabeth.  As always, all opinions are my own and are 100% honest.  I never agree to post only positive reviews – our sponsors all know that we will tell the truth, the whole truth and nothing but the truth.