FACES OF TRURO LIVE
Inglis Jewellers, Truro
This week we're talking all things sparkly with Inglis Jewellers.  Let's be serious, everyone loves something extra special under the tree and this week, the team at Inglis gave us some fabulous new gift ideas.  They've got something for every budget so have a gander!
This episode is also the official kick-off to our 2019 gift guide series.  We're so excited to bring you a carefully curated collection of gift inspiration this year, so stay tuned.
Inglis Jewellers | Heirloom Gift Ideas
#FACESOFTRURO LIVE: Episode 7
NOTE: The giveaways in these videos are now closed, all the more reason to tune in Live every Monday on our Facebook Page!
[video_player type="embed" style="1″ dimensions="560×315″ width="560″ height="315″ align="center" margin_top="0″ margin_bottom="20″ ipad_color="black"]
[/video_player]
Last year, we chatted with owner Paul (bottom video) and this year we had the lovely Charlene helping us navigate through the endless options that Inglis Jewellers has to offer.  They've got thousands of products in store which are, of course, beautiful but what we thought was really special was some of the services they provide their customers (who they treat like gold – pun intended).
Gift Giving at Inglis Jewellers
We always, always, always recommend going into the store to browse the vast selection (plus they're got some super cool promotions running for the holidays) but we also wanted to showcase a few of the items we covered here.
NOTE: We considered removing last year's features, but decided against it.  Why?  Because Inglis still carries many of the same products (or this year's versions of them) and we wanted to give you TONS of inspiration.  Last years' items are noted below.
For your convenience, friends:
Meditation Rings & Bracelets
Basically, fidget spinners for adults that look beautiful.  The individual pieces of the ring & bracelet spin around.  We love this trend!
Stackable Rings
Stacking rings are all the rage right now.  Actually, stacking jewelry in general!  These rings are beautifully designed to be clustered together in stacks.  I loved the endless combinations that are possible which makes this trend so unique!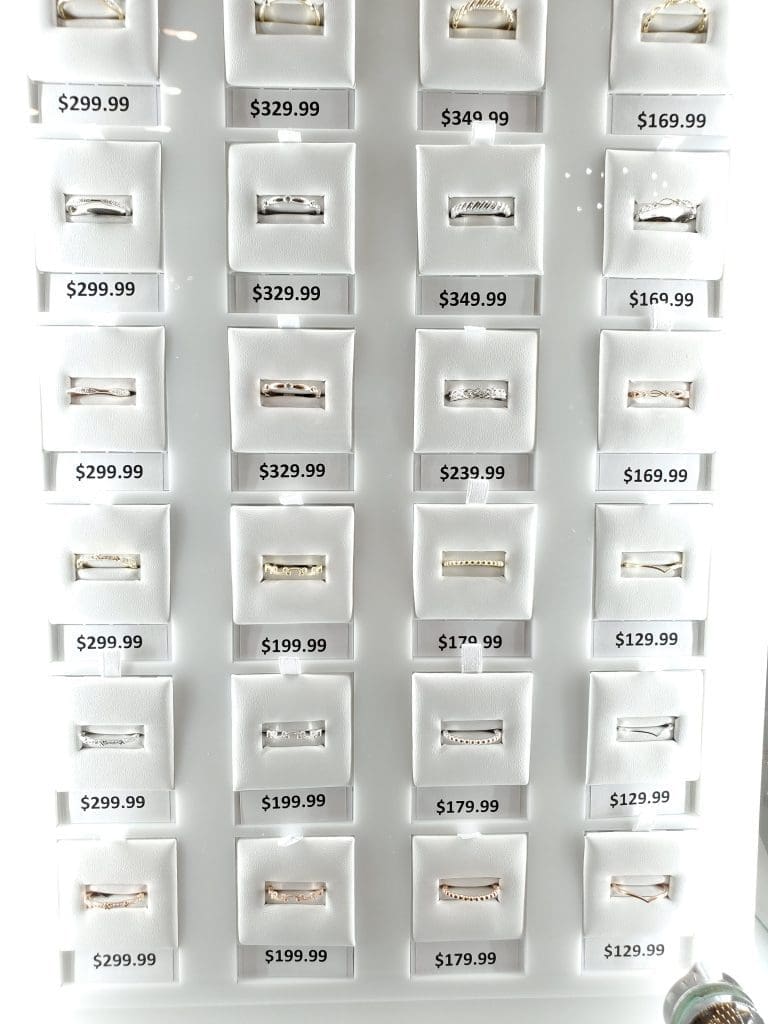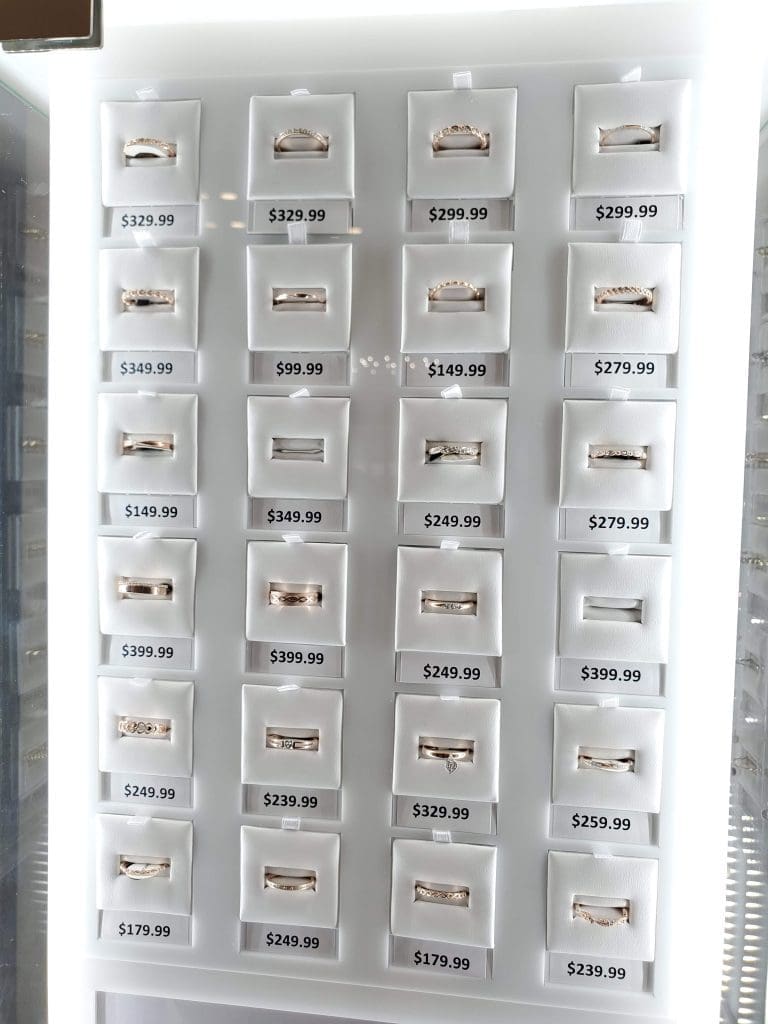 Holiday Accessories
Tiaras, clutches and costume jewelry.  Need I say more?

Forever Ice Canadian Diamonds Studs & Pendants
These beauties come in yellow and white gold and the sizes range from .10 to .50
Swarovski Cut Genuine Blue Topaz with Canadian Diamonds
Great for December babies (or anyone who loves beautiful things)!
Rose Gold Pendant
If you're anything like me, you LOVE rose gold right now.  This also comes in white or yellow gold but let's be honest – it's perfect as is!
Thomas Sabo Necklace
Sterling silver with stone and this was one of my favorite pieces for it's edgy but still elegant look and feel.  UPDATED TO ADD:  After last year's show at Inglis Jewellers, I got one of the Thomas Sabo pieces from Brent under our tree.  I love it so much, I literally haven't taken it off all year!
Bronzallure Bangle
I loved the term "high-quality fashion jewelry" that Paul used to describe this one.  It also has a hinged clasp that makes it great for any sized wrist!
Anne Klein Ceramic & Rose Gold + Bulova Curve Watches
Both of these were absolutely stunning but the Bulova Curve took top prize for us and trust us, you have to put this on your wrist to fully appreciate how incredible the craftsmanship is!
Maple Leaf Fashion Ring
Two tones yellow and white gold with two Canadian diamonds all set in a super unique stylized band that was (as everything in this show) simply lovely.
Myka Fashion Pieces
If you love fashion jewellery you've seen these before but THIS one was a stunner.  It clips apart creating bracelets, different necklaces and you can even buy additional sets to add to it as your collection grows!
Forevermark Black Label
No words… seriously.  This is a custom 1.75 ct piece with a cushion-cut center stone and winding setting that was to die for.
Something I personally love about Inglis Jewellers is that, while I love fashion jewelry as much as the next girl, I also love having a collection of beautiful, classic pieces that will stand the test of time.  I think any good jewelry collection is a balance of both!
We hope this has inspired you to find some truly unique gift this year for the people on your list.  As always, we'd LOVE to hear from you so leave us a comment or shoot us a DM over on Instagram!