"Cole Harbours best kept secret"
Unassuming from the outside, Vines Pasta Grill's reputation precedes it; and for good reason!  This wasn't our first trip to the Italian restaurant so we already knew the food would be great but they showered us in amazing food (keep reading), great local wine pairings, and outstanding service.
The atmosphere is gregarious, warm and inviting just as you would expect from an Italian restaurant.  The main dining area is dimly lit and bolstered with laughter from other guests, music playing in the background and candles lit at each table.  The main space is also sectioned off, offering various levels of privacy and intimacy which I felt really added to the ambiance.
I should note, they also offer a private dining space on the second level for special occasions, corporate events or other times you need a little extra privacy and that space can be reserved on request.
I remember years ago attending a family gathering that happened during their Sunday brunch and was blown away at the time – to this day, that Vines Pasta Grill brunch was one of the best…maybe even THE best brunch spread I'd ever seen but that's not what we're here to talk about.
Let's get to the food…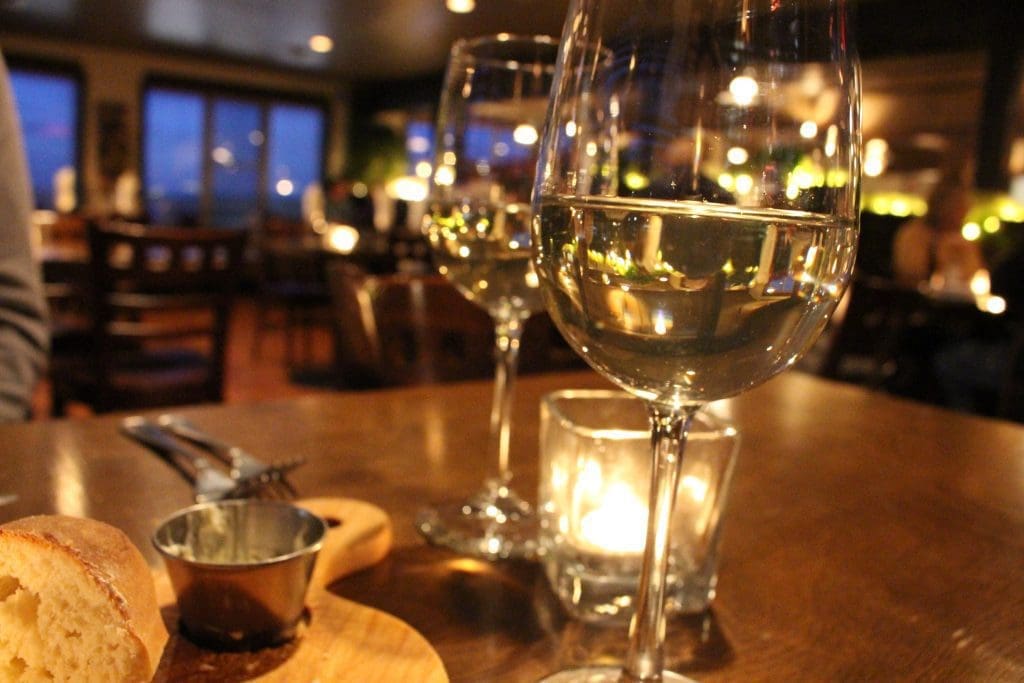 TO DRINK: Why, local wine of course!
Any good Italian meal begins with wine and a warm crusty bread, Vine Pasta Grill was no exception to this rule.  We were served our first wine, Grand Pre Winery's L'Acadie Blanc which worked perfectly as our appetizers (yes, multiple) started arriving.
The second wine, served with our entree's, needed no introduction and I knew it immediately.  "Baco Noir!", I exclaimed.  Brent thought I was crazy until our server returned and confirmed my "guess" (which wasn't a guess at all because I'd recognize that bold red anywhere – it's one of my favourites).
If there's one thing we've learned eating at locally owned restaurants is that they always have unique dishes they are proud of and can rarely choose just one to present us with…and our taste buds reap the rewards!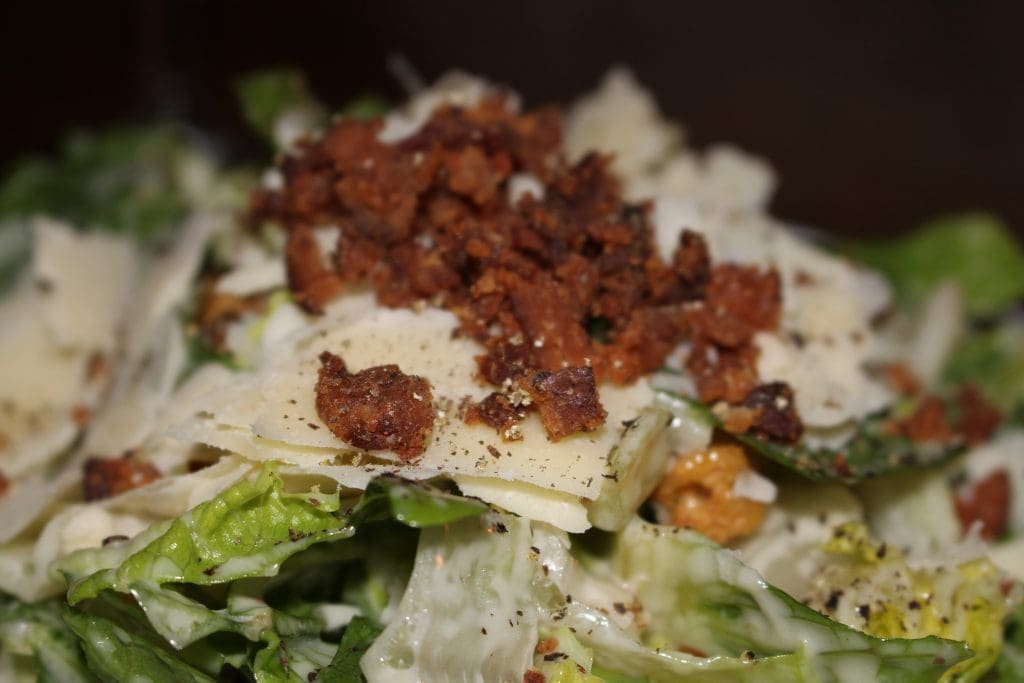 1ST COURSE: A sampling of staff and guest favourites 
The award winning caesar salad was first to our table.  Dressed with their house-made caesar dressing, this one is a garlic lover's dream.  Their dressing is so popular, it's also for sale right  there in the restaurant!
Served next was a trio of appetizers including garlic shrimp, rice balls (another award winner) and mushroom caps.  The best part about there being two of us is that we have completely different tastes so our favourites varied.
Mine was, hands down, the garlic shrimp – it was buttery and delicious!  My second pick were the mushroom caps which were stuffed with cream cheese & chipotle and topped with baby shrimp and mozzarella.  Can you tell I'm a seafood girl?  Brent's favorite appie was in the opposite order of mine was lead with the rice balls – he does love a home-made marinara sauce, followed by the mushroom caps and the shrimp.
The reality is, they were all delicious and we left nothing on the plates!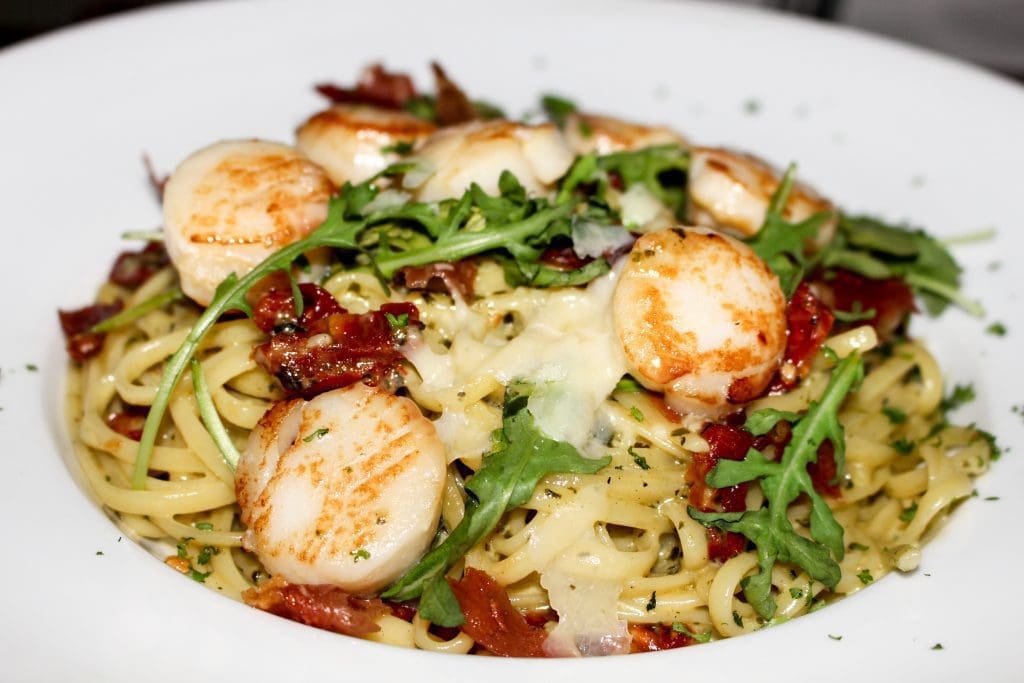 ENTREE'S: Surf & Turf
Ginger scallop linguini and the New York Strip loin.  Pasta, you would expect from an Italian restaurant so it was no surprise that it was outstanding.  There was a time I stopped ordering pasta's in restaurants for fear of disappointment but recently I've been served some dishes that shatter this theory completely and this was one of them.  Scallops sautéed with bacon, ginger and garlic, deglazed with white wine in a pesto cream sauce made this dish full of flavour and exactly the quality of pasta you'd expect from a pasta house!
The steak though, this was a surprise.  If you're anything like us you hesitate to order steak from anywhere other than a steak house because let's face it – if you're a medium/rare (closer to rare) steak eater you've likely experienced a less than stellar steak grilling experience.  Not today.  This 10oz strip loin came perfectly cooked and topped with fried onions and a house-made (like all of their sauces) peppercorn sauce.  It was divine!
DESSERT: How did they know?
We're not sure if owner, Tina, did a little recon or if it was a lucky guess but they hit the nail on the head with dessert!  Creme Brûlée is my favourite – I order it everywhere I go and I always feel they are best served traditionally which is exactly what Vines Pasta Grill does.  It was a vanilla bean base and simply topped with some fresh fruit and powdered sugar.
Brent rarely enjoys dessert but every now and then comes across one that he go absolutely nuts for and this was it.  Appropriately named Chocolate Decadence, this was seriously melt-in-you-mouth decadent (so, well named).  A brownie base, fudge chocolate middle and a chocolate mousse top, also beautifully garnished with fresh fruit, whipped cream and…you guessed it…chocolate sauce.
You can view the entire Vines Pasta Grill menu on their website here or by visiting their Facebook page.  You'll also want to stay tuned for our feature video in March because we're giving away a meal for two!
We were invited as guests of Vines Pasta Grill but, as always, all opinions are our own and we were not required to write a positive review.  We share this with you because we loved our meal and we think you will too!