If you've done any amount of travelling you've likely experienced a guided tour at one point or another.  Tours range from historic walking tours that are just a couple of hours long to multi-week guided tours and, of course, the ever infamous booze cruise.  Let's be honest, we've all indulged in one (or ten) of these haven't we?
We've heard plenty of full-time, avid travellers say that a tour is no way to really experience a new place, that it's "too touristy", and that it's not an authentic way to explore a destination.  Well, we politely disagree on that!  While we LOVE exploring on our own, we also feel that tours can provide massive value in helping you learn about a new place and when you find the right balance, that's where the real magic happens!
In our travels we've been on plenty of tours – some good, some bad, and some just plain ugly but we'd never experienced a private tour until we travelled to Mexico and connected with Kay Tours in the Maya Riviera.  From the first point of contact (via an internet chat on the Kay Tours website) until now (we still maintain a relationship sharing stories and travels) the level of service…no, scratch that – the level of care, was outstanding.
[video_player type="youtube" youtube_remove_logo="Y" style="1″ dimensions="560×315″ width="560″ height="315″ align="center" margin_top="0″ margin_bottom="20″ ipad_color="black"]aHR0cHM6Ly95b3V0dS5iZS9CNlNBQ3dnUDRjYw==[/video_player]
If you're looking at touring during your next vacation, we encourage you to look into a private tour and here's why:
1.  CUSTOMIZATION
The most obvious reason to consider a private tour is because it allows you to hand pick the points of interest that you want to visit and experience.  We've found with traditional tours there may be one key thing we want to see or do but it's often coupled with items that don't interest us as much (but they're packaged together so we have no choice).  With a private tour we were able to select each stop based on the interests of our group!
Side Bar: Our tour included the Coba Ruins, Jungle Walk (with Monkeys in their natural habitat), a traditional Mayan ceremony with a Shawman, Rappelling into a Cenote, Canoeing across a lagoon, Zip lining and lunch at a local restaurant in Tulum.  All hand picked for us and it was amazing!
2.  SINGAL PICK UP
A huge bonus in booking a private tour is a single pick up.  No more making 10 different stops to gather travellers and tourists from various locations.  Private tours offer singular pick up so you can get on with your tour!
3.  EARLY ENTRY
While you may not be keen on waking up early whilst on vacation, trust us…it's worth it to gain early entry into some of the more popular tourist destinations.  In our case, we visited the Coba ruins in Mexico before anyone else was on site which meant we got to enjoy the grounds, climb the pyramid, take loads of pictures and more all without having to battle the crowds.  We also got our very own local guide while on-site that gave us his undecided attention.  It was a wonderful way to see this exquisite place.
4.  FLEXIBILITY
Have a flexible schedule is magic when you're on a tour.  If there's something you really love and need more time with, that's fine!  A private tour offers far more flexibility than a traditional tour does without the typical time limits which means no rushing around to get "back to the bus by 3:10.  Your guides are there for you and the only real schedule you're on is your own.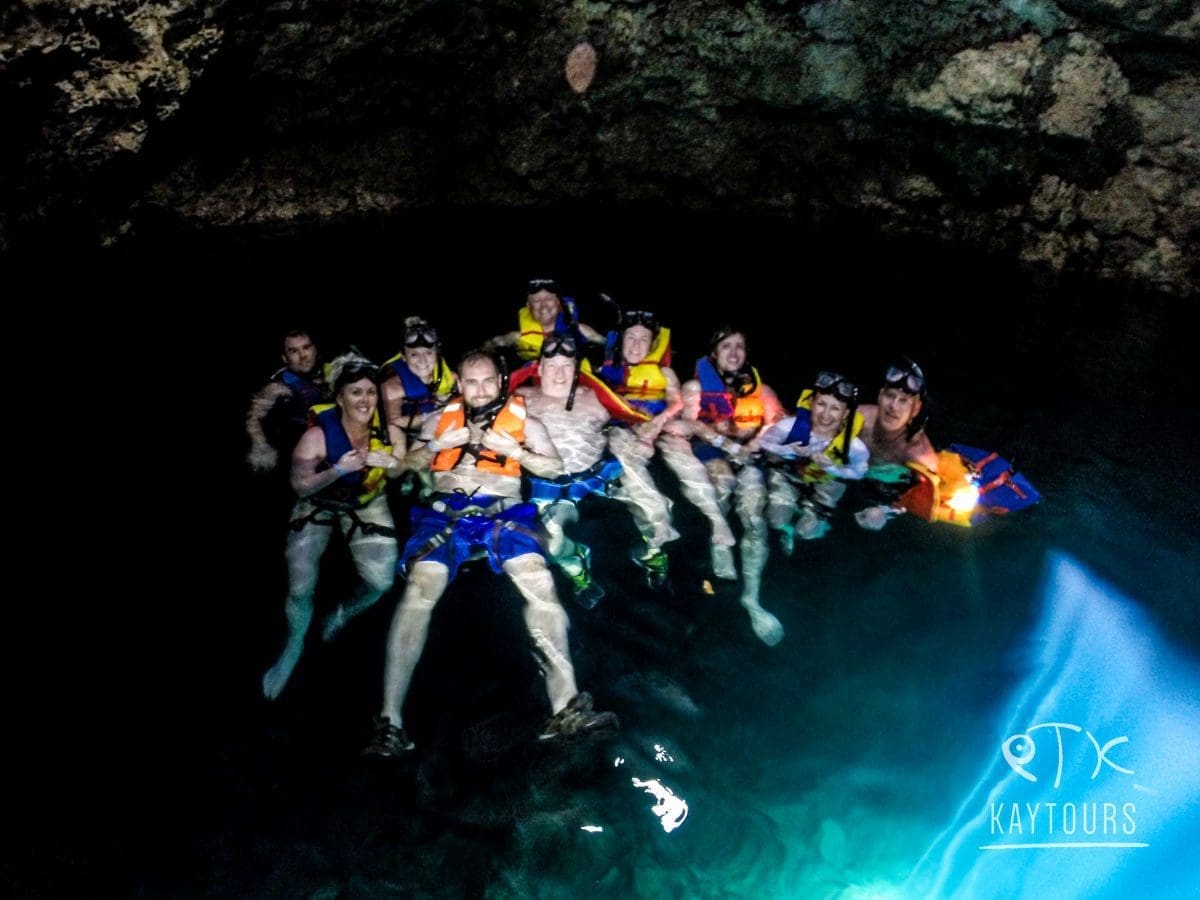 5.  HOSPITALITY & AMMENITIES
We've all experienced less than hospitable guides and it can really impact the enjoyment on your tour.  Our tour with Kay, Rose, & Santi (our three guides) had so much to offer but one thing that really stood out to us was the level of care each of them showed us.  Not only were they knowledgeable, friendly and super helpful – they were genuinely invested in us having an amazing experience.
They went above and beyond during our 12 hours with them (yes, 12!) and took care of everything.  The list is long so we decided on bullet points for this one.  Here are just some of the amenities we enjoyed:
Pre-trip contact: they emailed us to find out if we had any allergies and what our drink preferences were for the bus!
Air conditioned, private bus
Snacks & water provided
Licensed bus and drinks (based on our preferences) included (betcha they've never gone through so much Corona before but they never ran out!).
Friendly, considerate guides (they even let us add an impromptu shopping trip in Tulum)
English speaking (no language barrier to worry about)
Thos are just a few but list really goes on and on.
6.  LOCAL HOT SPOTS
One of our favourite parts of the tour was the lunch we enjoyed at a local hot spot in Tulum.  We were the only non-locals in the place and it was a wonderful way to end our day.  This is a restaurant we wouldn't have found if not for our guides and it was probably the best meal of our entire week!
We hope this has given you something to think about when planning your next vacation.  We are already planning our next trip back to Mexico and will be hooking up with Kay and the gang again to see more of this beautiful country.
When was the last time you did a tour?  Tell us about it!
Oh, one more thing, Kay Tours also took hundreds of photos and emailed them out to the entire group after the tour at no additional cost.  This was an incredibly valuable addition and we love them so much, we've featured those photos here in this blog!
A heartfelt thanks to Kay Tours for a wonderfully special experience they provided us along with some of our nearest and dearest during our wedding week in Mexico.