"Collect Moments, Not Things"
These are words we live by and both Brent and I have a strong conviction that we would rather try and fail than live our life full of regret that we never went after our dreams.
If you haven't read the book "Top 5 Regrets of the Dying: A Life Transformed by the Dearly Departing" by Bronnie Ware you should!  She documents the final months, weeks, days and hours of her patients in palliative care and aims to show us all that life is too short.
Here are those 5 regrets (if you want details and inspiration, I highly recommend you pick up this book)
1. I wish I'd had the courage to live a life true to myself, not the life others expected of me.
2. I wish I hadn't worked so hard.
3. I wish I had the courage to express my feelings.
4. I wish I had stayed in touch with my friends.
5. I wish I had let myself be happier.
We believe that life is meant for living to the fullest!  We started our own bucket list early in our relationship and it has been growing ever since so this is a place where you can watch it unfold as we check off each item.  Do we really think we can accomplish everything on this list?  YEP!
You'll likely notice that each time you visit this post, the list is changing and growing – just as we are as individuals and as a couple.  We hope you can draw inspiration from our own list and that this post inspires you to start a list of your own.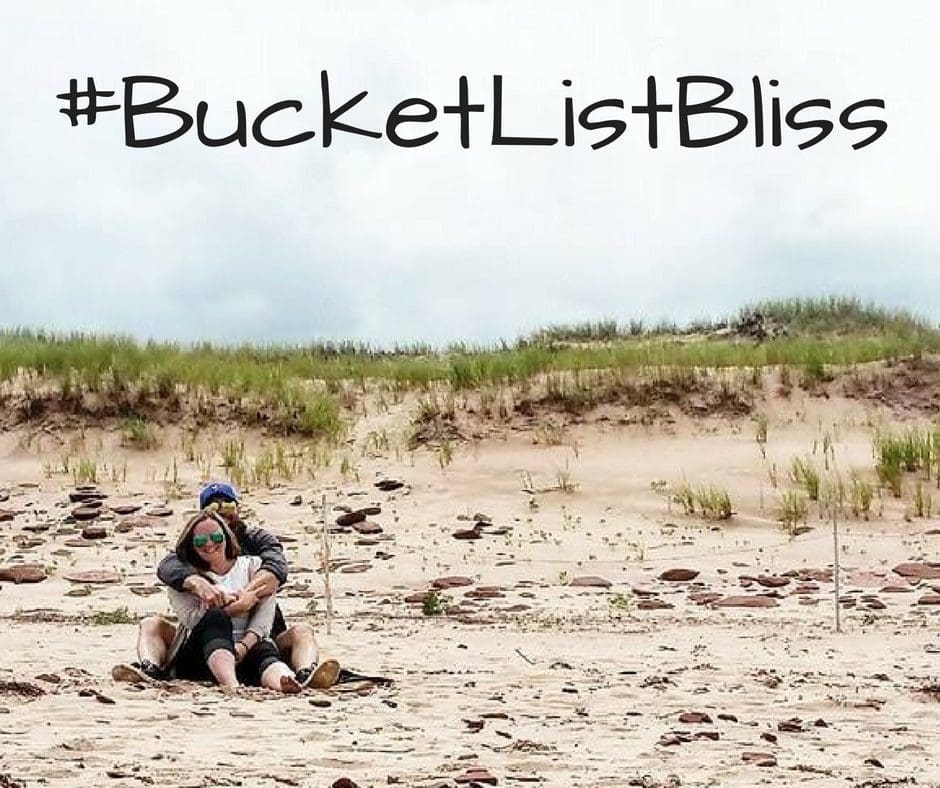 We hope that you can draw inspiration from our list and that our story inspires you to start one of your own.  We'd also love to know what's on your bucket list.  Leave us a comment below sharing some of your top items or tweet, Facebook or Instagram us (dashboardliving) using #BucketListBliss.  We can't wait to connect with you!
 Take a hot air balloon ride
Spend 1 month in Thailand
Go skiing in the Rockies
Swim with Whale Sharks
Follow the Blue Jays for a Season
Road Trip to Miami
Learn to drive a stick shift (Sara)
Learn to swim (Brent)
Visit the Acropolis in Greece
Canoe Barron Canyon in Algonquin Park
Attend the Superbowl
Visit every continent
Swim in a hotspring
Take an Alaskan cruise
Roadtrip across Canada
Attend an Olympic event
Play with monkeys
Go to a nude beach (and be nude)
Hang glide
Pan gold in Dawson city
Cruise the Nile
Stay in a water villa in the Maldives
Go on a Safari
Touch a humpback whale
Go on a Yoga retreat together
Visit the Galapogos
Work full time for ourselves
Charter a boat to sail the Greek Islands
Take a 30 day cruise
Be super toned (both of us)
Go Skydiving
Complete the #100daysofNovaScotia project
Go bungee jumping
Reach 10,000 blog subscribers
Reach 10,000 YouTube subscribers
Learn to speak spanish
Swim across the Northumberland Strait
Hug a Sloth
Get published
Be on the cover of a magazine
Marry my best friend
Sleep in a castle
Pub crawl in Ireland
Fly first class on an Emirates flights
Take a private jet
Swim in a Cenote
Live in a tree house
Own a campervan
Sleep in a tree cocoon
Complete the Mongol Rally
What are your top 3 Bucket List items?