We all know we should back up our files, right?  But how many of us actually do that?  We say "we're going to" and then weeks, months and sometimes years go by before we put a plan in place.  More often than not, it takes a disaster to light a fire under our asses to get it done.
Well, dearest blog reader, that just happened to us.  We lost about 25% of everything we've ever done.  At first blush you're likely thinking, "Well, serves you right – you should have known better" or "at least you didn't lose everything" or "25% isn't so bad" but wait for it friends…
The entire file marked "Wedding" was lost.  Yep, you read that right.  We lost all of our photos, footage and some very special documents that mark this new chapter of our lives.  Of course we have the photos our friends & family took and the work from our friend (and photographer) Danique but there were things in that file that were super precious to us and they're gone.  I know it's our own fault for not backing everything up the way we should have but it's still a gut wrenching experience and a valuable lesson learned.
In all the chaos of losing our files, it got me reminiscing about our wedding and thought now would be a good time to share it with you.
OUR ENGAGEMENT
We were engaged on December 23rd, 2015.  Brent's proposal was so perfectly "us" and I'll share that with you as well, but not today.  While I knew I wanted to marry this man, it was a complete surprise and I wasn't expecting the proposal at all!  Side note: Marriage wasn't something I wanted before I met Brent but, as the saying goes, "when you know, you know".
OUR VISION
We both knew, from the very beginning that we wanted our wedding to be about our guests.  We're best friends, we knew that wasn't about to change and that no matter how or where we got married, it would result in us remaining best friends. For us, the wedding wasn't about the rings or the paper or the "finality" of marriage in the traditional sense but more about a celebration of this amazing life we've built together with our closest friends and family.
Experiencing & exploring the world through travel is one of our top priorities and a value we hold extremely high (in case you missed that on this blog) so, we decided that our wedding would reflect that.  We did a little research and opted for a destination wedding in the Riviera Maya, Mexico.
OUR WEDDING WEEK
There were a lot of reasons that factored in to us deciding on a destination wedding but, first and foremost, we wanted it to be simple, stress free, and a LOT of fun for our guests.  We loved the process so much, we're actually working on a separate blog entirely outlining all the benefits of choosing a destination wedding.  So, stay tuned for that.
First of all, the resort was beautiful, large and had an endless supply of things to do on and off resort.  If you haven't read our review of the Bluebay Grand Esmeralda, you can do that here.  We organized a couple of meet ups on the resort: cocktails at the swing bar, coffee at the black & white bar, and even one private tour for the group with Kay Tours.
I could go on and on about the week, it was perfect in every way but I'll save that for another post…or maybe a video.  Which would you prefer?
OUR WEDDING DAY
OK, let's get to wedding already!  The day was easy peasy.  We had already met with our wedding planner Lulu, who had taken care of every details.  All we had to do was get ready and show up.  Brent and I parted ways first thing in the morning and my girls came over to our suite to get ready (which obviously takes us much longer than the boys).  We ordered room service, had mimosa's and lounged in our swim up suite all morning.
One of my bridesmaids, Karrie, is also the absolute best hair stylist I know so she took care my 10lbs of hair (not kidding – it's so heavy) and my aunt Jennifer graciously offered to do my make-up at the last minute.  Full disclosure, I would have just slapped on my usual daytime make up and called it a day but thankfully, she is an expert and I LOVED what she did.

OUR LETTERS
Something that was really important to me was writing each of my bridesmaids, my brothers, my parents and Brent heartfelt letters and having them delivered on the wedding day.  I'm a writer; it's how I express myself best; and I wanted each of them to know how much they meant to me and how overwhelmed with gratitude I feel for having each one of them in my life.  I personally believe that letter writing is a lost art but it's so meaningful to get a hand written letter from someone you love so this; our letters to each other on our wedding day, will forever be one of my most cherished moments.
I'll let Brent tell you about his experience (and letter) another day but when I opened mine and the first line was "My dearest friend", I lost it…and I kept losing it for the rest of the day!  On the plus side, I wasn't the only one because in the picture below, hidden behind his sunnies, my handsome Brent is losing it too. *swoon*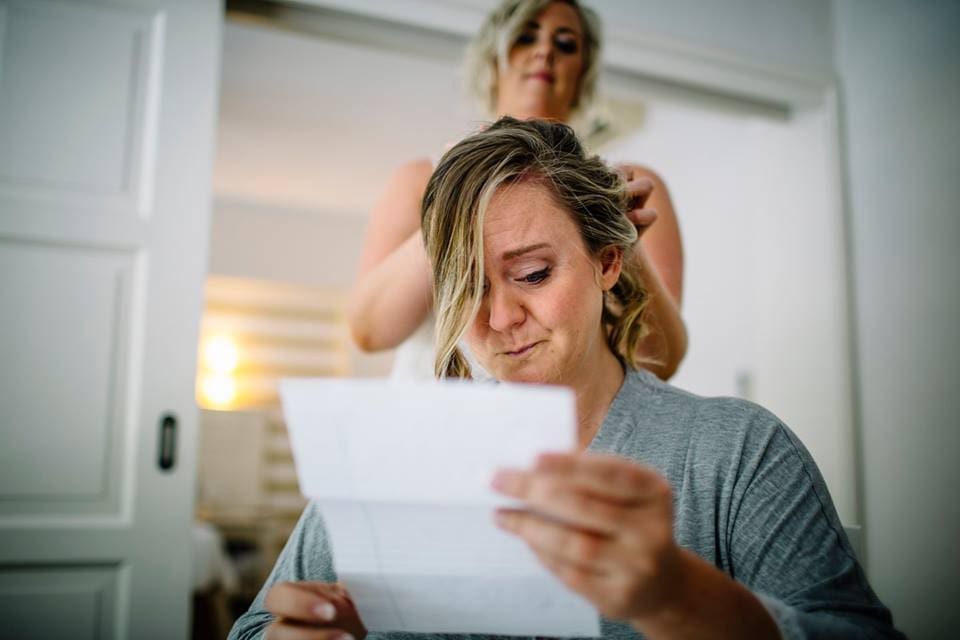 THE FIRST LOOK
Once we were ready, the hotel staff picked us up in a golf cart (which I almost slid right out of) and took us to a spot we had picked earlier in the week for our first look.  We went back and forth on this idea but, in the end, decided that we really liked the idea of having a moment that was just ours before the actual ceremony.  So we did.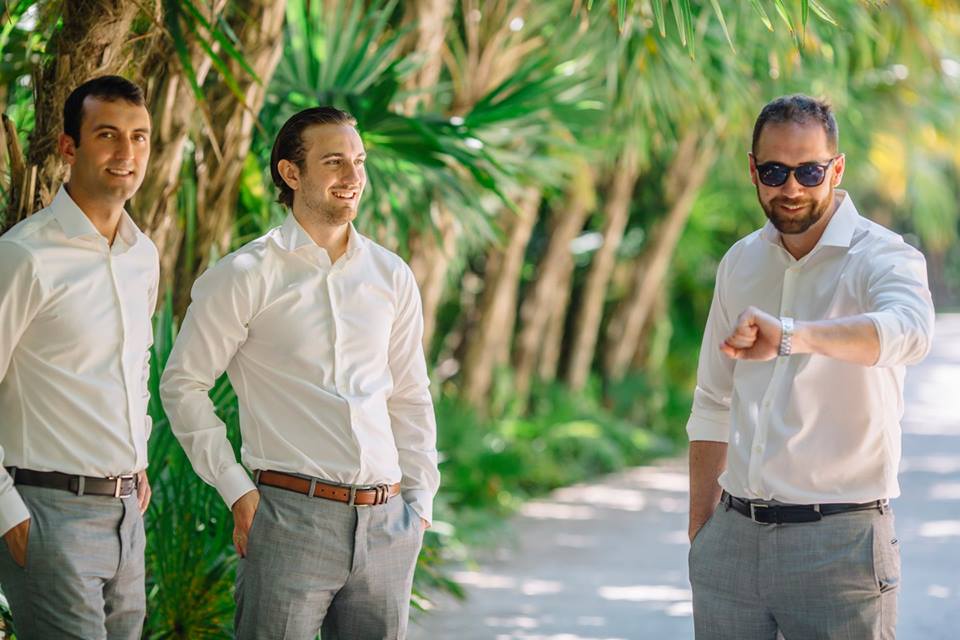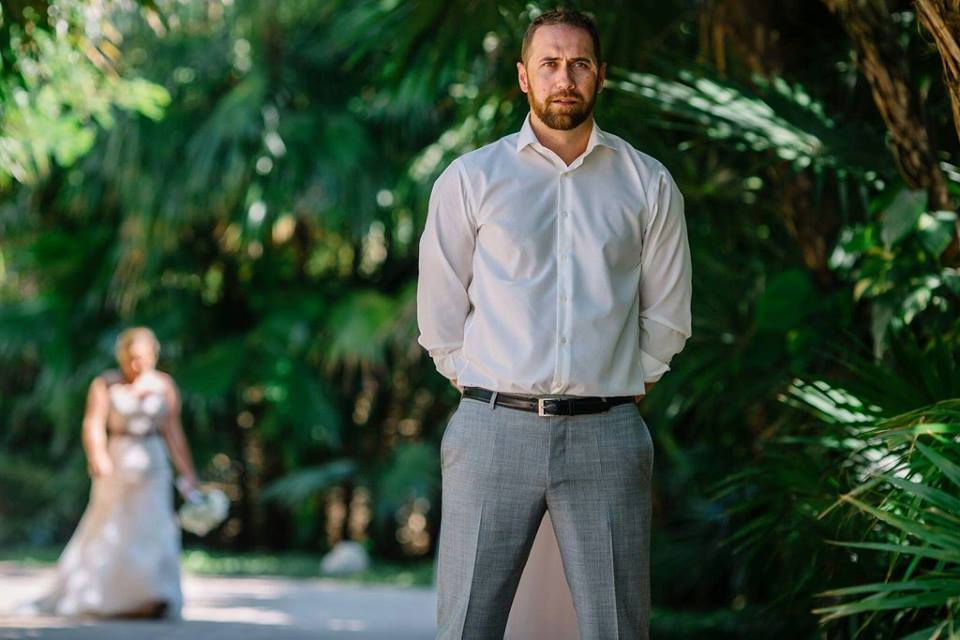 Yep, that look on Brent's face…that's the "fighting back tears" look again!  And then there was my dad… I just couldn't resist!  What can I say, we're an emotional family and apparently Brent has adopted those characteristics as well.  Luckily, my photographer was a gem and spared the camera my "ugly cry" which was tactfully hidden in the photos.  Gotta love when they can read your mind 😉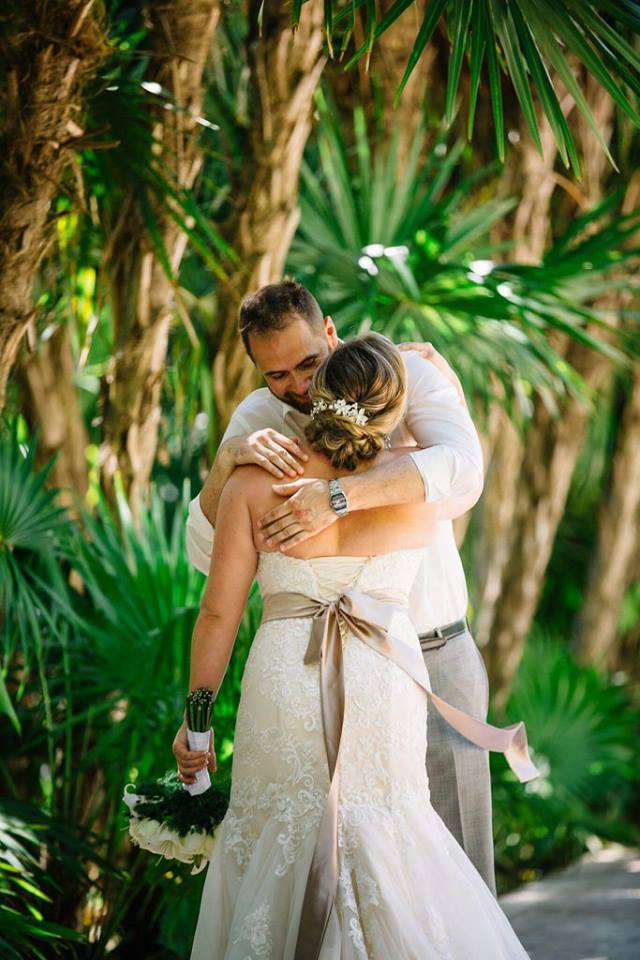 OUR PEOPLE
What can I say about them…they were just unreal from start to finish.  Actually, they were champs. It was the hottest day of our entire vacation and I wouldn't be exaggerating if I said the head was almost frightening where these pictures were taken but they took it in stride and made the day seamless.  Even little Brookie, had not a single complaint.
Of course, we're on a resort and with that comes lots of on-lookers which we thought just added even more fun to our day!  People would stop, snap pictures, wish us well and then carry on.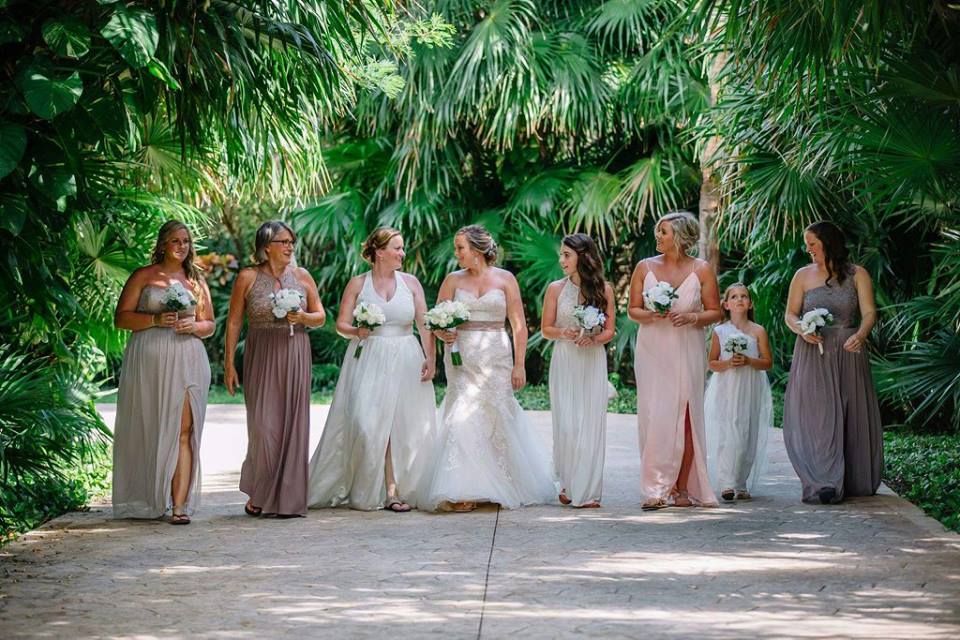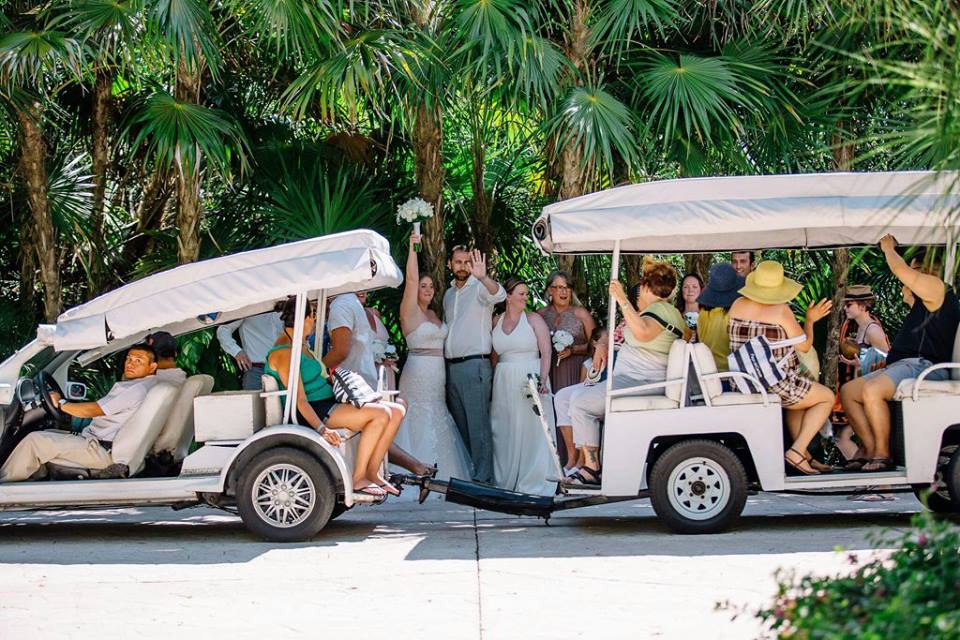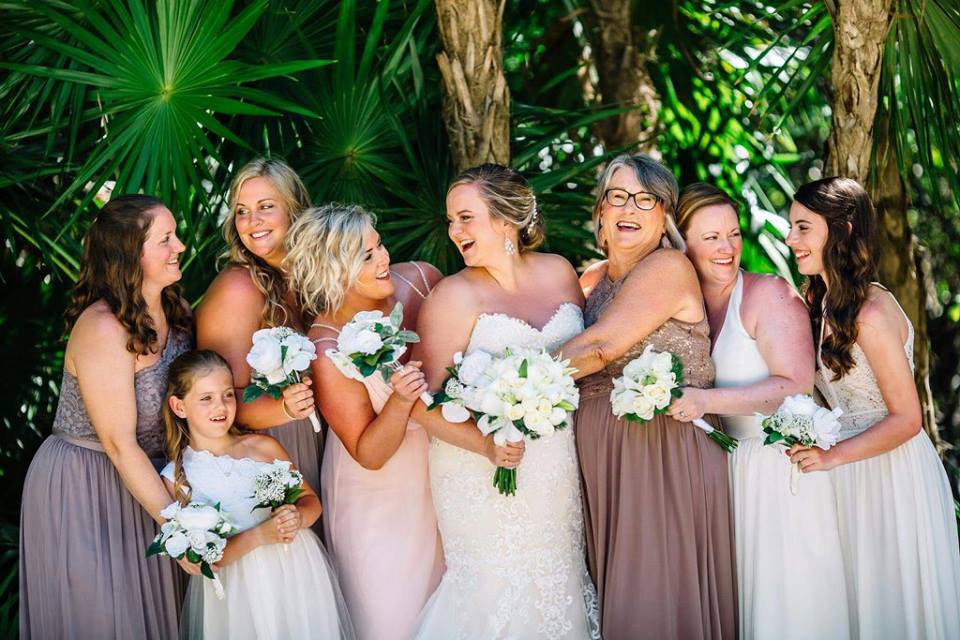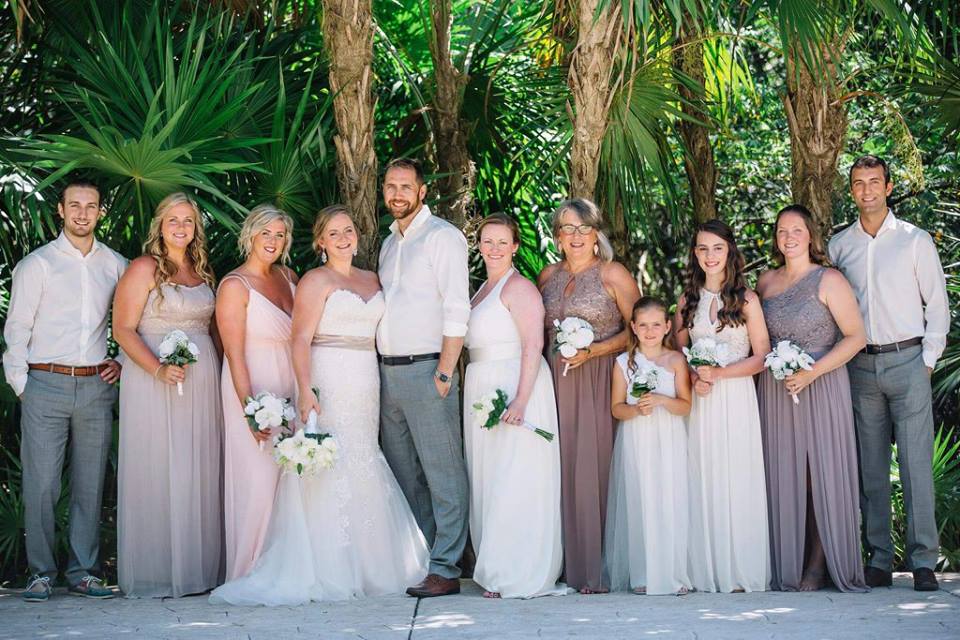 Don't they look so good?  You can't even tell we're all melting under our dresses!  From left to right; My brother and Brent's best man Todd, my cousin Lauren, my friend (and that amazing stylist I was telling you about) Karrie, us (duh), my cousin Candice, my friend Vicki Fern, my flower girl Brooke, my junior bridesmaid & cousin Nicole, my cousin Nicole (yep, there were too – also Brooke's Mom) and my brother and Brent's other groomsman Pat.
We couldn't have done it without them and there aren't enough words to thank each of them for not only their help during our wedding process but for how much they each enrich our lives.  So much love for this crew.
OUR CEREMONY
We got married on the beach and the day was absolutely perfect.  Once we hit the sand the breeze from thew water was just enough to make what was, only an hour ago, unbearable heat the perfect temperature.  Winning!  Walking down the aisle towards Brent was a moment I'll never forget.  I thought I'd be nervous but my only thought was "this is it, I can't believe how lucky I am" and I didn't see anyone else.
The officiant was spectacular, her vows were so perfectly us!  In fact, loads of people came up to us after the ceremony saying "Wow, you must have been meeting with her for months – she knew you two so well".  Surprise!  I'd never laid eyes on her until I arrived at the ceremony!  It was like she'd known us our whole lives and her words were just perfect.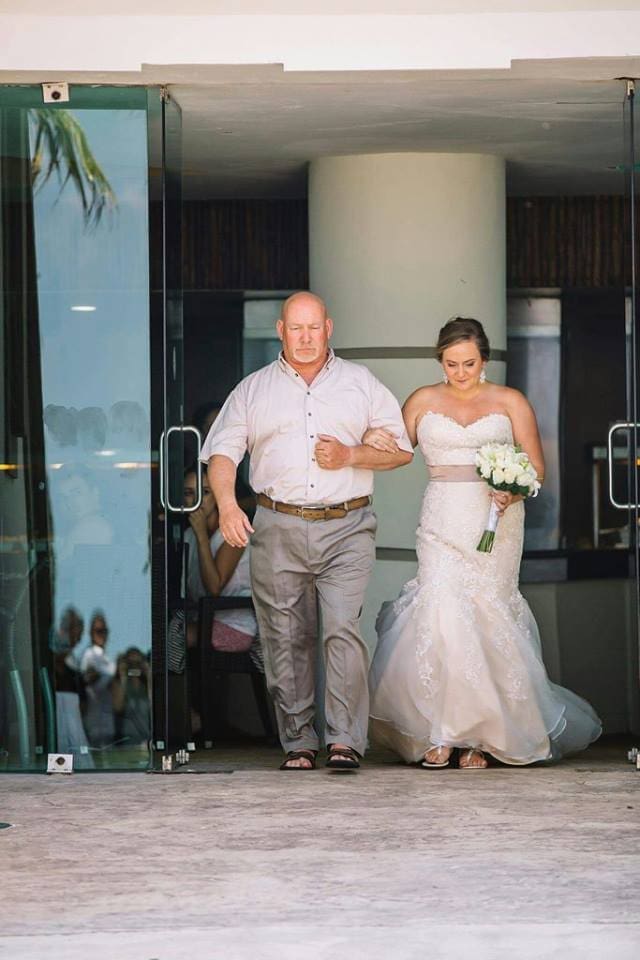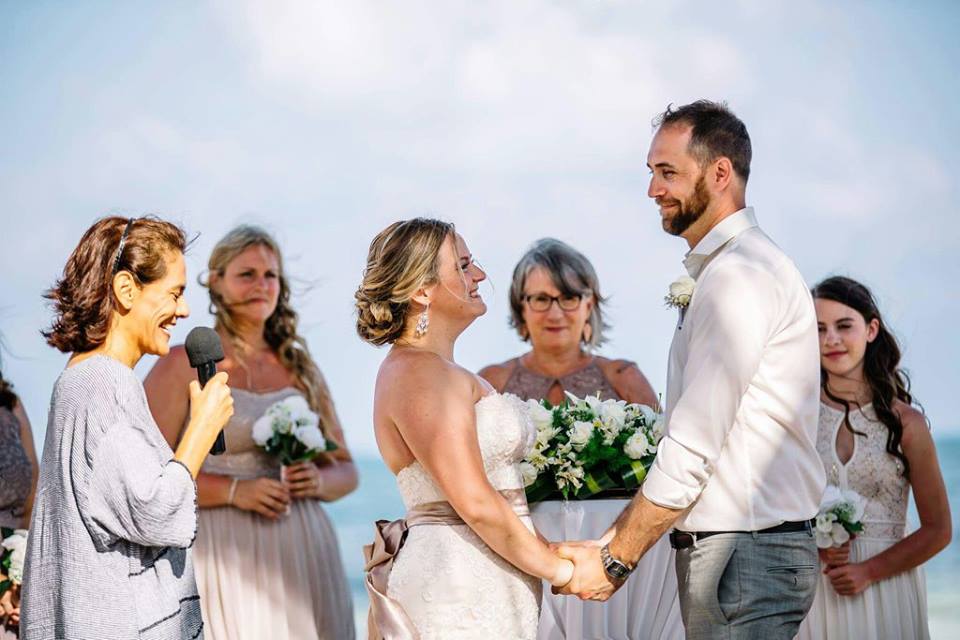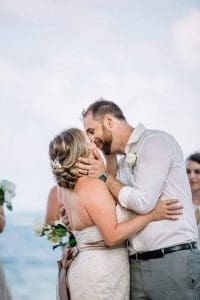 OUR BEACH RECEPTION
We were married on the beach (as you know) and the hardest decision we had to make was where the reception would be held.  The VIP bar on the beach, the garden or the private club (indoors).  What if it was windy?  Mexico is known for windy beaches and what would happen if we sat down to dinner on the beach and had to literally eat sand?  We watched the weather and at the last minute decided to go for it – a private reception on the beach.  BEST. DECISION. EVER.
We had our own bar (and staff), our own DJ (with a playlist we had requested) and the best meal of our entire vacation.  After we ate, we danced the night away in our bare feet, in the sand, under the moonlight.  Right?!?  It couldn't have been any better if it was straight out of a telenovela!
We drank tequila, danced a congo line, and sang our hearts out to 90's rap!  Yep, we're those people.  It was the perfect and we wouldn't have changed a single thing.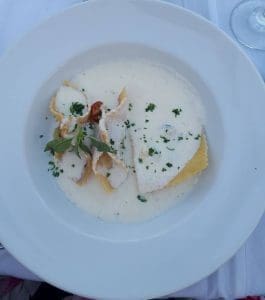 THE DAY AFTER
One of the things we prioritize when we travel is meeting new people and forming relationships that last well beyond the trip.  During our tour with Kay Tours, we hit it off with one of our guides, Santi, who offered to pick us up at our resort the day after the wedding and take us to an amazing beach for some really epic photos.  Epic they were!
This was an old resort that had been hit by a hurricane and is now a local hang out spot and the prefect backdrop for some really unique photos.  More importantly, we got to know Santi and he's become a friend that we still stay in touch with.  He's also an incredible photographer!  Follow him on instagram for some serious travel inspiration.
FINAL THOUGHTS
Honestly, we wouldn't change a single thing.  We were able to have a full week with 50+ of our closest friends and family with us to celebrate, relax, and unwind together.  What we love most about the entire wedding was that we got to have a giant family vacation.  When is that possible if not for a wedding?
Four families blended together for a truly unforgettable week and it was magical.  We had so many guests tell us that this was the best vacation they'd ever taken, that is was the most fun they'd ever had at a wedding and that they were so glad we opted for a destination.  We couldn't agree more.
Of course there are people who can't make it to destination wedding, which is why we held a reception at home as well!  We got to celebrate over and over again and we can't begin to express in words how special this entire week was for us.
If we had a do-over, would we change anything?  Nope.  Not a single thing.