ONE ROOM CHALLENGE WEEK 6
It's week 6 of the One Room Challenge and this is typically reveal week!  But, with everything that's been happening around the world, Linda (aka our little angel) has decided to extend the project for the first time ever so we have an extra week.  THANK YOU LINDA!
If you're just joining us, we are decorating our very first space EVER.  The goal is to transform our plain, boring and tiny sleeping space into a luxury master bedroom in 6 short weeks.
[video_player type="youtube" style="1″ dimensions="560×315″ width="560″ height="315″ align="center" margin_top="0″ margin_bottom="20″ ipad_color="black"]aHR0cHM6Ly95b3V0dS5iZS91eUcxdFV0QVctOA==[/video_player]
We're finally back up and running with our video production after nearly three weeks without our computer!  Happily, we're back on track and in the final scramble to get the room completed with just one week remaining.  It's been really difficult to imagine our space finished since it's been bare until this week with our bed literally sitting in the middle of our room.
But, this week it all started coming together with the arrival of some decor pieces, the finished gallery wall (swoon) and a couple of fantastic finds at our brand new Ikea!  Let's take a walk through what happened this week shall we?
LISMORE SHEEP FARM
This wasn't my first trip to Lismore Farm but I'm always looking for an excuse to visit my wooly friends so when they agreed to parter with us on this project, I was excited!  They have a giant range of wool and sheepskin products from wool blankets to dryer balls.
During the summer months, you can also visit the barn for some lamb love and get a first hand look at life on the farm.  Lismore is an awesome place to take your kids as well with lots to see and do (and learn) while you're on site.  I was lucky enough to meet baby Pricilla while I was there, a 3 month old highland cow, and she was the sweetest.
We've been resisting the urge to try our new pillows until the room is complete.  The pillows are supposed to be amazing and what's really great about them is that dust mites and mould (common issues in pillows) can't thrive in the wool environment which makes them a great solution for most people.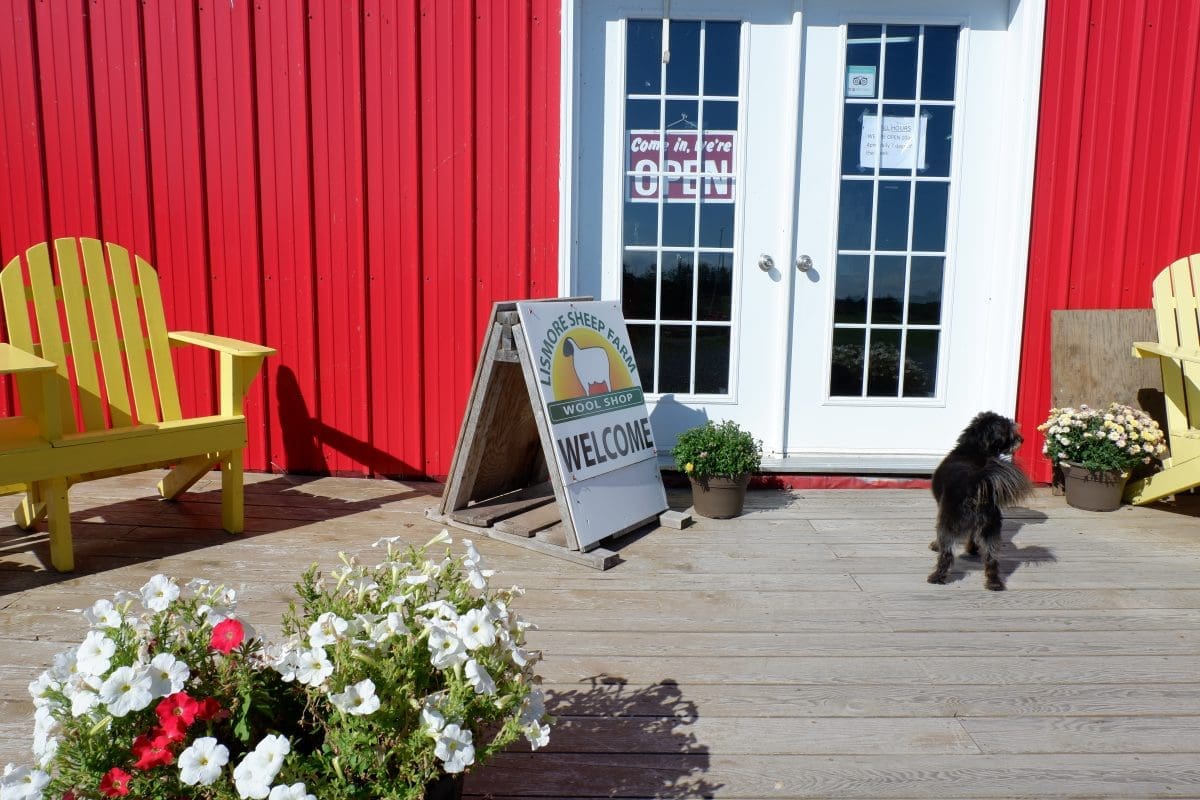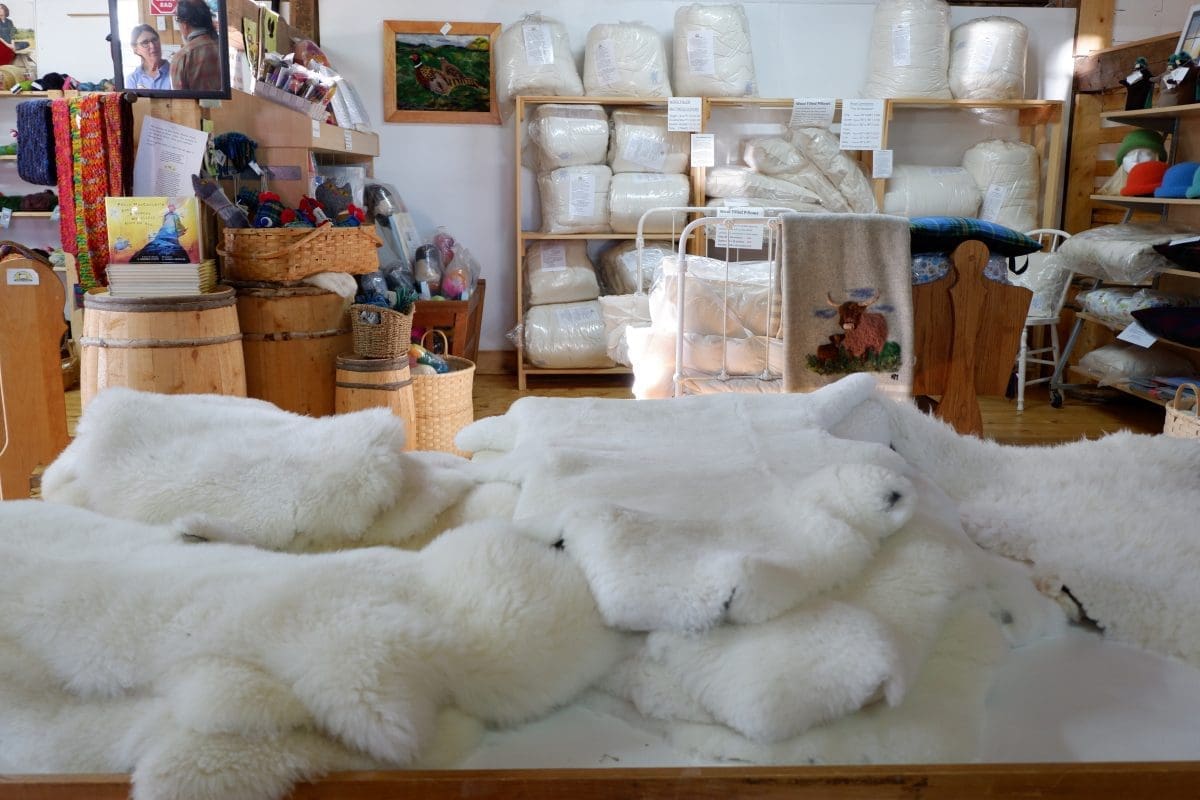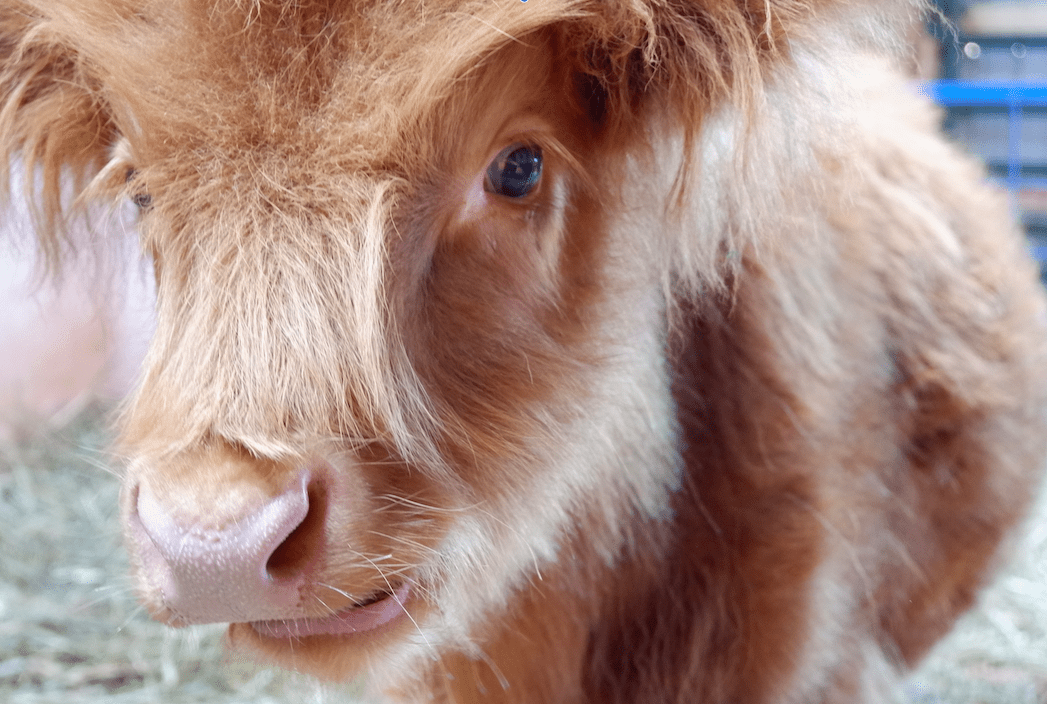 MINTED.com
Here in Canada we tend to struggle with deliveries from other parts of the world so I have to give a huge shoutout to minted.com who made the whole process seamless.  While I ADORE shopping at local businesses there are certain things you just can't get here so when the opportunity to have some custom artwork for our other wall came up I jumped on it.
If you haven't heard of them, minted.com is an online community that sources it's products from independent artists all over the world.  We love what they stand for, giving artists a platform to showcase their work, and we are so happy with the three pieces we ordered.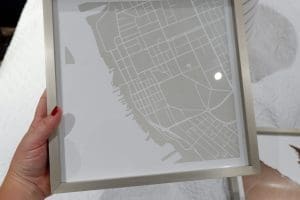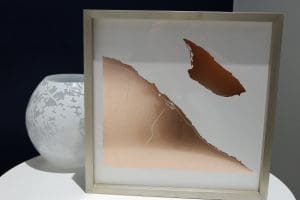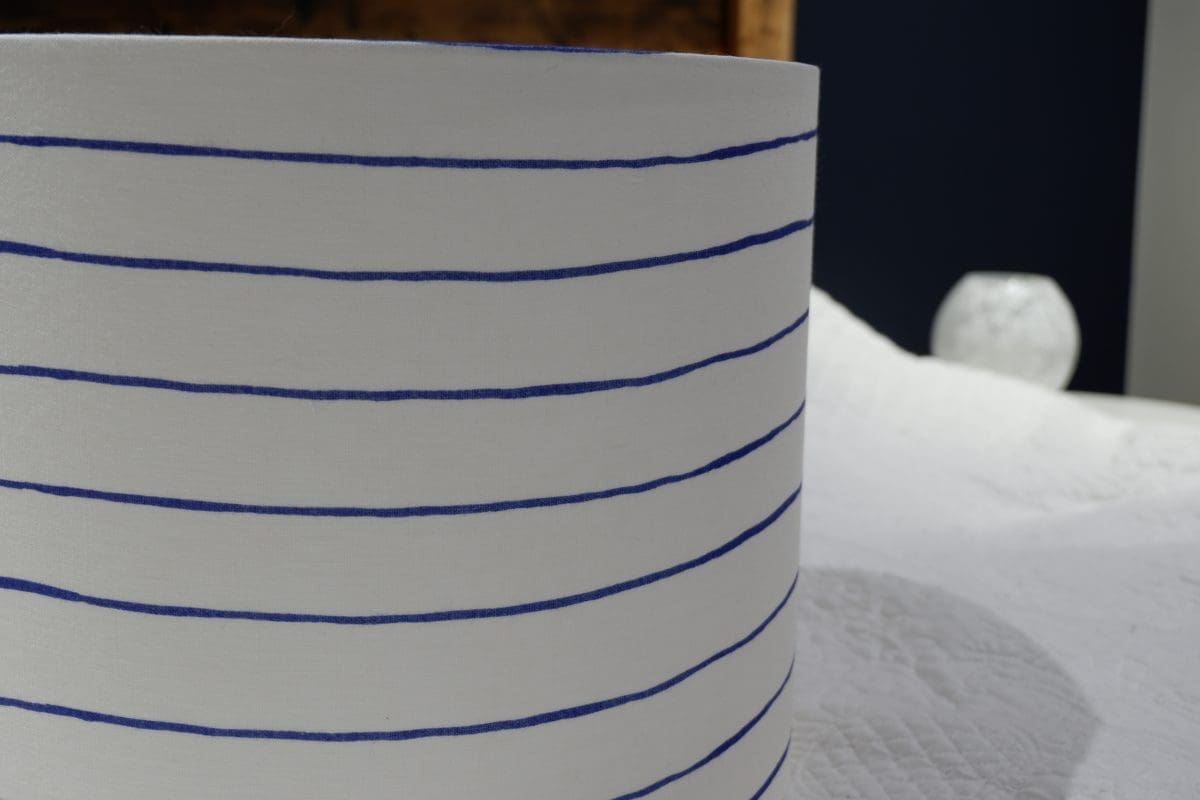 We ordered two custom map prints and opted for rose gold foil and matte silver.  I toyed with the idea of doing both the same but, as you'll see next week, I don't do that matchy matchy thing and really loved the contrast.  I also chose the champaign lightbox frames and I'm so glad I did – I love them!
Both maps are of places that are incredibly significant to us.  One, I disclose in the video for this week and the other we're saving for another time.  Can you guess where the second map is?  I bet you can't!
The lampshade was another story and I spent hours down the design habit hole on minted.com because the selection is humongous.  That's my only complaint (if you can even call it that).  There are so many designs to choose from that it's nearly impossible to go through them all.
If you have an idea of what you're looking for, there are advanced filters you can use on the site which makes life much easier but if you're just scrolling through looking for inspiration (like I was), then grab a glass of wine and settle in – you'll be a while.  Funny enough, this lampshade was one of the very first ones I looked at and in the end – I came right back to it and I love it.  So my advice?  Go with your gut!  They say art speaks to you…it must be true!
ROB MACCORMACK
Friend, Crossfitter & Craftsman
OK so he might kill me for including this but I just have to tell you guys about this man.  We've been friends with he and his wife Lisa forever (or at least 8 years) and recently Rob started experimenting with craftsmanship.  He's always been handy and had some skill with a saw (obviously) but this new artistic Rob is quite incredible.
He's been building the most beautiful furniture and even more recently started darling in painting (check his instagram account to see his stuff).  After we got home from Mexico Rob & Lisa arrived at our door with this jaw dropper of a headboard.  Yes, I cried – have we met?  I cry at everything!  We love it.  So much, in fact, that this entire project was built around it.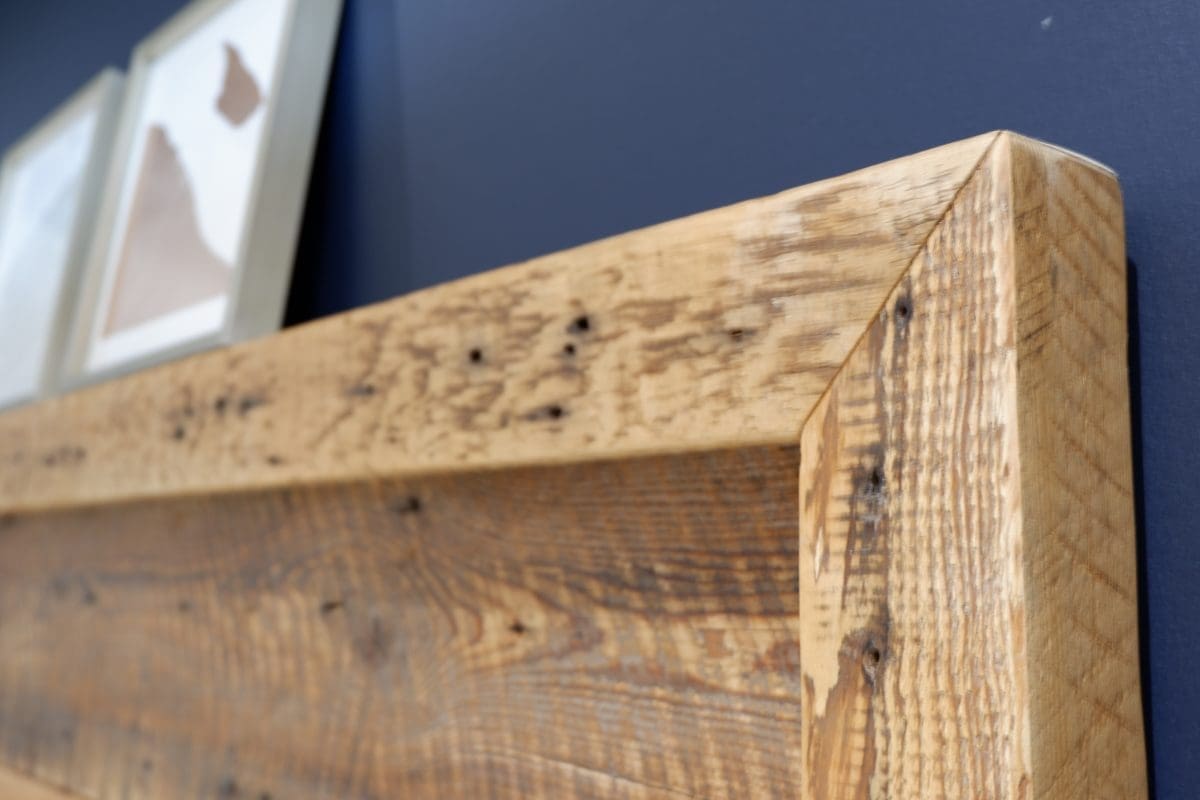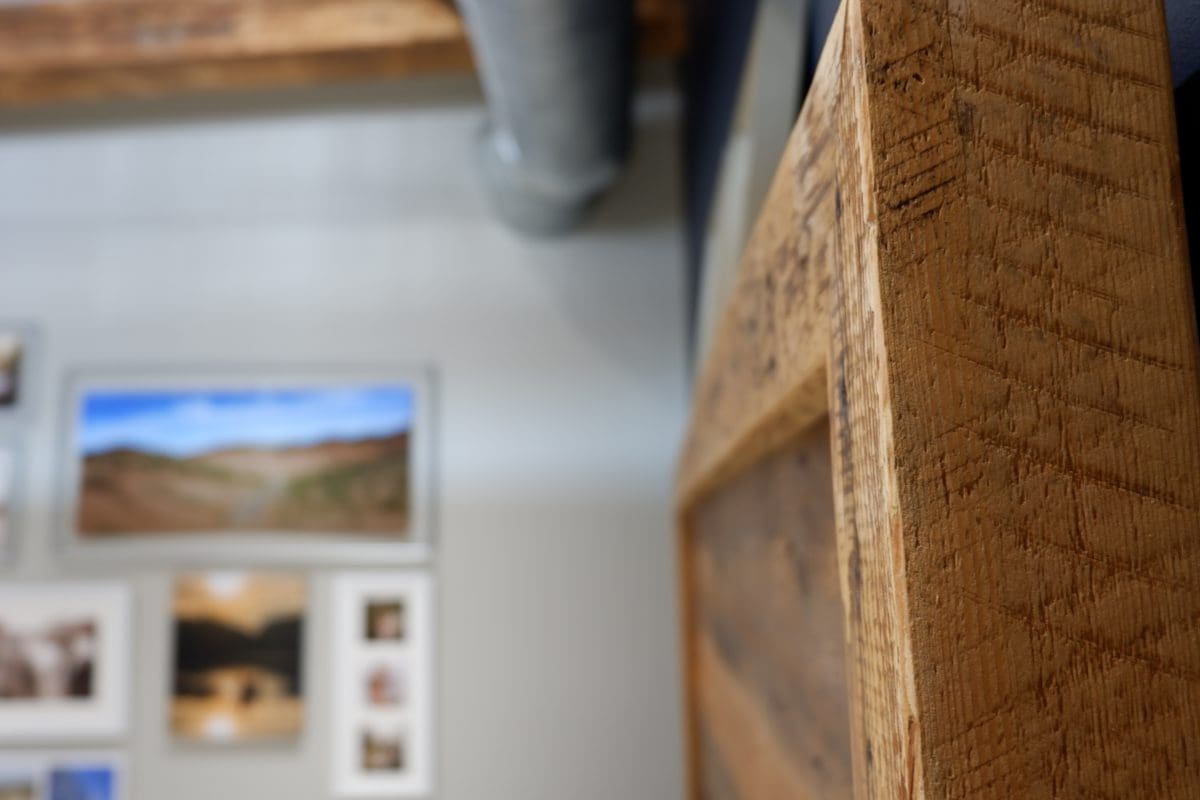 I know what you're thinking… Umm, why aren't you showing the whole thing?  Because, silly!  I don't want to give away the surprise of how awesome it looks all put together until next week!
Missed Something?
This would not have been possible without our partners – they are amazing.  We feel so lucky to have the pleasure of partnering with such extraordinary businesses and we love sharing them with you.  As always, all opinions remain our own.
Phillips & Chestnut | Lismore Sheep Farm | Lori Bryne | Carsand Photo Imaging | Minted.com | Rustic Roots Furniture | Jill Rosenwald | Fox Hound Collection |  Hilltop Design