New Brunswick Winter Accommodations with Outdoor Hot Tubs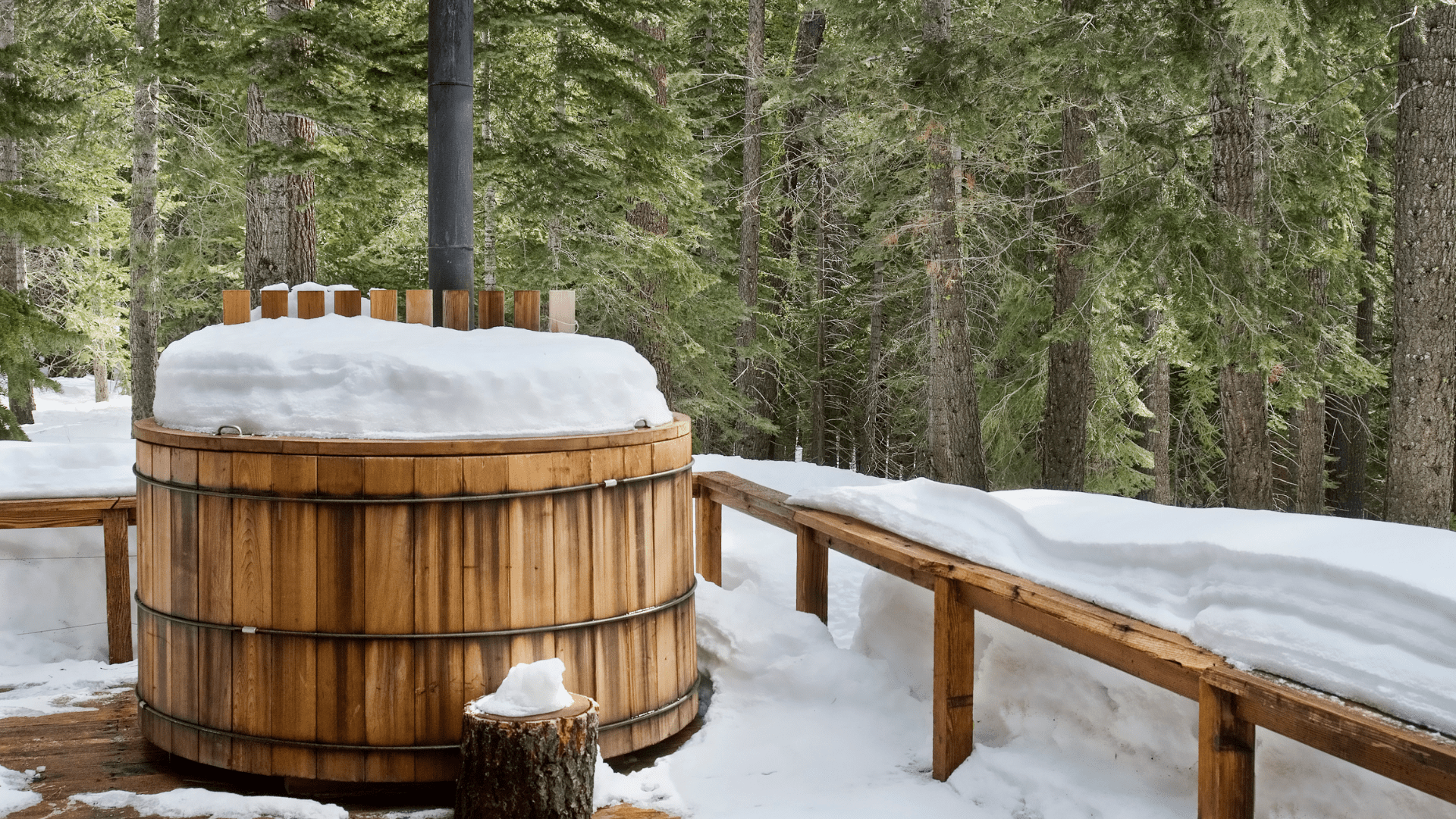 You asked, we delivered! After posting Nova Scotia accommodations that are open during the winter season that INCLUDE outdoor hot tubs, the question was raised: but what about New Brunswick?  Excellent question, friends! So, in an effort to be a fountain of information for all of your travel and dining needs (especially when it comes to the Maritimes), we put together a list of New Brunswick accommodations with outdoor hot tubs that are open in the winter!
New Brunswick Winter Accommodations with Outdoor Hot Tubs
Full disclosure: we haven't been to ANY of these (yet)!  So we don't have first hand information like you're use to getting from us.  As we visit these places, we'll continue to update with personal experiences and pictures for you to use in your own trip planning!
Storeytown Cottages
[439 Storeytown Rd., Doaktown, NB]
Storeytown Cottages Miramichi River Adventures is located along the beautiful Miramichi River. There are 5 delightful cottages, along with individual rooms that include a kitchenette. There is one outdoor hot tub for the whole facility that, due to the current pandemic situation, can be booked for 1 hour intervals.
Wilson's Sporting Camps
[#23 Big Murphy Lane, McNamee, New Brunswick]
As the name suggests, Wilson's Sporting Camps is the perfect spot for those who really want get out and enjoy nature. You can find plenty of activities to do, including sledding, fishing, water activities, and so much more. After enjoying the great outdoors, you can relax in the large, roofed deck hot tub if you're staying in the lodge, or you can rent a hot tub with one of the cabins.
Ridgeback Lodge
[86 Old Reach Rd, Kingston, NB]
You're going to want to check out Ridgeback Lodge, if for no other reason than it's truly unique! Offering winterized domes, cabins, and cottages, this is glamping to the max. Not only do the Dream Domes also include wood/pellet stoves, a flush toilet, and a small kitchen, you can also rent a Japanese wood fired hot tub to have delivered to your door!
Glamp Camp
[6054 NB-105, Waterborough, NB]
Sticking with the glamping train, Glamp Camp offers dome accommodations that are truly luxury living. With high end finishes, it is situated on a 90-acre property not too far from most major centres. Each dome has its own wood-fired hot tub, but be aware that in extreme weather conditions during the winter, they may not be operational.
The Woodland Hive and Forest Spa
[216 Academy St Hillsborough, NB]
Apparently New Brunswick is all about the glamping! Who knew! The Woodland HIve and Forest Spa can be booked using AirBnB, but they also have a Facebook page that they provide updates and fantastic photos of their fabulous geodesic dome. A wood fired hot tub is located just steps from the dome, and everything is tucked away on a hobby farm!
Eagles Eye View Cottages
[2585 Route 845 Carters Point, NB]
With a total of 7 cottages, Eagles Eye View Cottages offers something for everyone. Situated on 15 acres of land along the St. John River, each cottage has a great deck that allows for great view of the surroundings. You can enjoy relaxing in a hot tub outdoors in 4 of the 7 cottages.
NB Lakeside Cottages
[1156 Route 710, Codys, NB]
Offering 5 different chalets, each of NB Lakeside Cottages boast of a large private hot tub. Not only are there hot tubs, several of them have AMAZING views! Absolutely a place you'll want to to check out.
Jenkins Cove Cottage
[1363 Bridge Drive, Cambridge-Narrows, NB]
Jenkins Cove Cottage is a private cottage with 3 good-sized bedrooms and hot tub, along with it's own private beach on Washademoak Lake. With it being only about 45 minutes from Fredericton, it's a great spot for a family getaway or a romantic staycation.
River Getaway
[1184 Highway 710 Cody's, NB]
River Getaway is the ideal spot for those of you who like a bit of outdoor adventure. Bring your ATV and rest knowing that it's safely stored in the on-site garage, or bring your hiking boots and go for a good hike through the wooded property. The cottage sleeps 6, and offers an outdoor hot tub on the deck!
Dominion Hill Country Inn
[990 Reardon Road, Digdeguash, NB]
A beautiful inn located near St. Andrew's, St. Stephen's and St. George, NB, Dominion Hill Country Inn has been an all-service property for the last number of years. Along with a wellness centre, they also have a great outdoor hot tub available to all guests.
*This winter, 2020/21, the Inn is closed due to COVID-19 until April*
Belleisle Bay Bed and Breakfast
[22 Log Cabin Lane, Kiersteadville, NB]
The Belleisle Bay Bed and Breakfast has 4 rooms, but the fourth downstairs room has a walk out patio and hot tub! Located along the beautiful Belleisle Bay in Southern New Brunswick, this is a great spot to check out if you're looking for a great breakfast and lovely rooms.
JFK Miramichi Lodge
[267 McNamee rd, McNamee, NB]
A gorgeous country accommodation, JFK Miramichi Lodge is comfortable and perfect for family gatherings, romantic getaways, or group events. There's room for 12 guests, located at prime location for fishing, snowshoeing, sledding, and more, and allows for ultimate relaxation in their hot tub!
Seaside Chalets Aboiteau Beach
[38 Alle Des Chalets Cap-Pelé, NB]
WIth an outdoor hot tub, robes, and electric fireplace, Seaside Chalets Aboiteau Beach is perfect for a cozy getaway to beat the winter blues. You can book by contacting the owner through their Facebook page!
Cast Away Cottage
[15 Campbell Road Blackville, NB]
Cast Away Cottage is the most idyllic little spot that offers a great spot on the the Miramichi River. In fact, not does it have a great view of the river, there's also a salmon pool where you can watch salmon swim by as you relax in the outdoor hot tub!
Glue Resorts
[80 MacLean Road Cumberland Bay, NB]
A new mini home is sitting on some property right on Grand Lake in Cumberland Bay, creating a great private spot for your next mini vacation. Glue Resorts has an expansive deck that holds both a BBQ and hot tub for you to enjoy.
So there you have it! A list of New Brunswick winter accommodations with outdoor hot tubs! Are we missing any? Let us know in the comments!