Chicken and Veggie Skewers
(with foil roasted potatoes)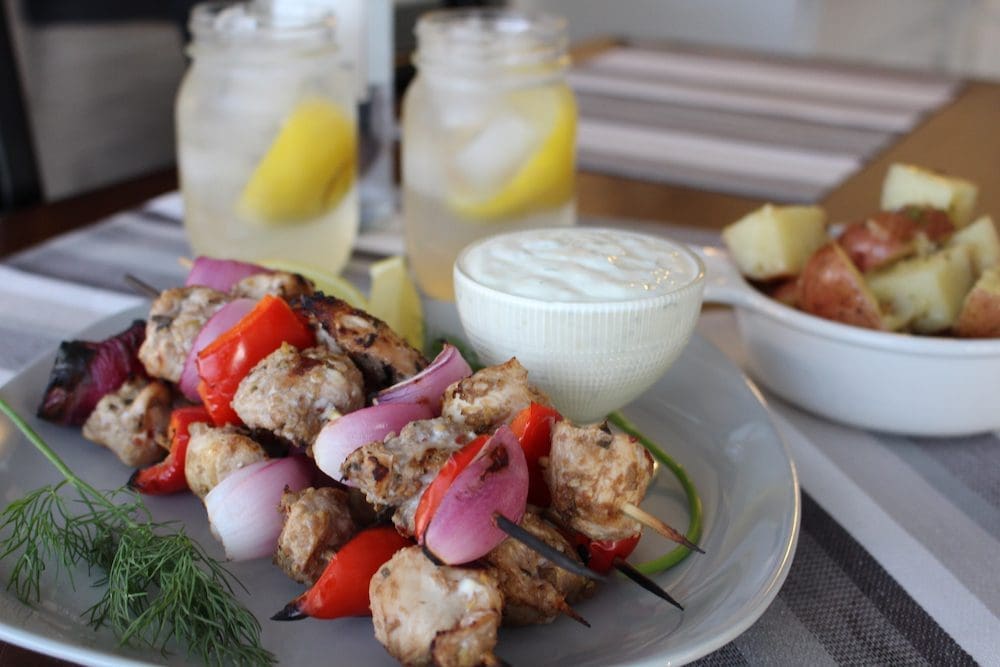 What's more classic than kabobs on the grill in the summer?  These chicken and veggie skewers were perfect for us this week because we got them ready a day in advance.  That way, when we had a super busy day, we were able to come home and just toss them on the grill.  Quick and easy!
We're also trying to consume more veggies.  It's a never ending battle but we're working on it.  Kabobs make veggies a little more exciting and I really like grilled veg.  Honestly, raw vegetables tend to upset my stomach so grilling is a nice option.  It cooks them enough to save me some belly aching (literally) but they're still nice and crunchy (which I love).
The chicken and veggie skewers are paired with simple foil roasted potatoes.  Have I told you guys yet that potatoes are one of my favorite foods.  I love them.  I love them every way you can cook them.  If we're totally honest, I probably eat them everyday…or at least most days.  They're just so damn deliscious but especially in the summer when they're fresh and new.  The trick to these is to seal the foil well to keep the steam in.
Chicken and Veggie Skewers with Foil Roasted Potatoes
Chicken and Veggie Skewers with Foil Roasted Potatoes
This simple veggie heavy recip is easy to prepare. You can even prep them in advance so that when it's time to eat, just toss them on the grill and voila!
The Chicken Skewers
3 Chicken Breasts
4 cloves Garlic (minced)
1 Lemon Zest
2 Tbsp Oregano (fresh)
1 Red Onion
1 Red Pepper
1/4 cup Lemon Juice
1 Tbsp Balsamic Vinegar
1/4 tsp Red Pepper Flakes
The Potatoes
3 lbs Red Potatoes
1/4 cup Olive Oil
1 Lemon (juiced & zested)
4 cloves Garlic (minced)
6 Tbsp Oregano (Fresh)
Salt & Pepper (to taste)
The Chicken Skewers
Cut the chicken into cubes

Mix all ingredients into bowl and chicken and marinade into large baggie and let sit for at least 4 hours, or overnight.

Cut veggies into cubes around the same size as the chicken

Strain chicken from the marinade and then start your skewering process, alternating between chicken, pepper, and red onions

Grill on medium high heat for 4-5 min each side and chicken has an internal temperature of 165F.
The Potatoes
Half or quarter potatoes depending on size and place in bowl with all other ingredients, mix up and place onto some tin foil.

Make sure tin foil is sealed very well, sometimes double wrapping works well.

Place on top shelf of BBQ on medium high heat(400F) Cook until tender, about 30-40 min.
Drink Pairing
Barrelling Tide Vodka Lemonade
As we've discovered, drink pairings should compliment the flavors in your dish rather than compete.  So today, we chose to do something a little different to play on the lemon in the recipes (because there's a lot).  A while back, at an event, they were making vodka lemonade and it was delicious.  So naturally, we went home and recreated it.
We used Barrelling Tide's vodka, which is a local spirit company that we adore.  In fact, we've got a liquor cabinet stocked with their products.  They're quite known for their liquors but also for their Rum, Vodka, Gin and most recently, vodka sodas.
Handmade Vodka Lemonade
Handmade Vodka Lemonade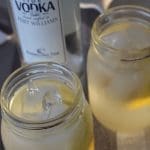 Refreshing, simple to make and impressive. This cocktail recipe uses fresh ingredients and is made to order making it a perfect patio drink. Pair it with chicken and vegetable dishes or fresh cheeses.
1/2 Lemon (juiced)
1 1/2 oz Vodka
1 oz Simple Syrup
3 oz Water
1 oz Sparkling water
Fill a mason jar with ice

Juice your lemon over the ice

Add vodka, simple syrup and what's left of the juiced lemon (throw the whole half in the drink)

Add water and top with a splash of sparkling water

Serve immediately

If you love summer grilling recipes, be sure to check out the entire Thrill of the Grill series.  Be sure to leave a comment and let us know what you think!
This post is sponsored by Warmth by Design and BBQ Heaven in collaboration with Kitchen Door Catering.  We love collaborating with awesome local businesses and sharing them with you but, as always, all opinions are always our own!