How to Pack for Carry-on Travel
In my experience, packing is a point of contention for a helluva lot of travelers.  You're either overwhelmed trying to stuff everything you own into your already oversized suitcase or you're worried that you've missed something crucial in your attempt to pack light.  Am I right?  Figuring out how to pack for travel is great.  But, figuring out how to pack for carry-on travel is a game-changer.  And that, my friends, is what we're diving into today.

Why Carry-On Only
If you need a little convincing, let me paint a picture for you.  A few years back I was traveling to Cuba for a friend's wedding.  Like all of my friends, I packed every dress I owned, about 100 different outfit combinations (because you never know, right?) and several pairs of shoes.  I also included 4 sets of workout wear, my sneakers, hats, accessories, jewelry and all but the kitchen sink.
When I arrived at the airport (at this time, one bag was still included) my bag was too heavy.  The overage charge was $50.  I was ready to pay it when the airline representative convinced me to pull a few things out of my bag to save the cost.  So, there I was, "that girl" hauling things out of her suitcase with a line of people waiting.  I stuffed just enough into my carry-on to get my bag underweight, including my toiletries.  But, was I ever glad she convinced me because that bag (the big one with everything I owned) didn't arrive in Cuba with me.
To keep this long story short (ish), I arrived without my bag.  It was lost.  All I had was my carry-on which (at that time) contained mainly books, tech, camera, and in-flight things like headphones.  But it also contained the things I'd pulled from my suitcase.  
What Was in My Carry-on
Swimsuit x 1 (I had packed one for every day)

Cover-up (I had 4)

1 pair of shorts (you get the idea)

1 tank top

Toiletries (because they were heavy)
And the clothes on my back (a sweater & jeans).
At first, I was horrified!  But, they assured me my bag would arrive the next day so I borrowed a dress from a friend and bought a cheap pair of flip-flops from the resort store.
My bag didn't arrive the next day.
Or the next.
Or the next.
My bag didn't arrive until Thursday!  For the record, we arrived on Saturday.  And, when my bag did arrive it had been ransacked and many of my belongings were missing.  Now, this isn't a story about someone taking liberties with my bag (they were only things) and it has a happy ending.  
Are you ready?
I had the BEST trip I'd had to date.  I never worried about what I was wearing because it was the same every day.  And, I didn't have to fuss with my evening outfits.  The best part?  NO ONE even noticed I was wearing the same clothes all week!  That was my very first experience with carry-on only travel and it was a turning point for me.
5 Reasons to go Carry-on Only
Less Stress.  *see my above story* but also because you don't have to worry about your bag or be overwhelmed by way too many clothes.

More Security.  You're not checking a bag, which means all of your belongings are with you.

Save Money.  These days, most airlines charge for checked bags!

Saves Time.  A lot of time!  

At the airport (no checking or waiting for bags)

The bus.  Get the best seat because you're just walking on

Packing.  We're getting there, don't worry!

Unpacking

Finding things

Getting Ready

Better Mobility.  It's much easier to move around when you're not juggling multiple bags.
Now that you know the "why", let's get into the "how".  This guide will teach you how to pack for carry-on travel only in a simple to follow framework.  You know me, I love step-by-step guides so here we go.
I should note.  If you're brand new to carry-on only travel, you might need to invest in a few key essentials.  These will make your travel life (and the rest of your life) easier in the long run and actually save you money down the road.
Carry-on Only Packing Guide

1. Choosing the Right Bag
If you're planning to pack for carry-on only, it starts with choosing the right bag.  There are plenty of options ranging from duffel bags to 40L backpacks to traditional rolling carry-ons.  In my opinion, there's only one choice (unless I'm heading to Macchu Picchu for a hiking expedition).  A hard-case, 4-wheel carry-on size piece of luggage.  Two words: WATERPROOF + MOBILE.
Before you buy, you'll want to check your usual airline carriers and confirm their size restrictions.  I know that we typically fly with the same 2-3 airlines so when we buy bags, we know the limits.
Note: If you regularly fly with budget airlines, you may need to downsize further.  They often have smaller dimension limits than their standard fare counterparts.
2.  Minimize Toiletries 
Nixing liquids and making smart cosmetic decisions is key to successfully packing for carry-on only.  Aside from the obvious restrictions on liquids, switching to solid products has one major added benefit.  No risk of it spilling!  Solid products (like shampoo bars) are also notably lighter than their liquid counterparts.
Consider switching to multi-use cosmetics like:
Lip to cheek make-up sticks

Versatile shadow palettes

Foundation with built-in sun protection

Shampoo Bars & Soaps

Stick Sunscreens (please, please, please make sure you're bringing eco-friendly screens!)
Pro Tip: The Laneige BB Cusion is magic!  I've been using this product for years and it's gives flawless coverage with SPF 50+ built in.  I've gone out on the water all day with this on my face without a sunburn (and no reapplies needed).  
Another great travel trick for the ladies is to get your lashes done before you go.  You can skip the mascara and avoid the dreaded raccoon eyes every time you hit the beach!
3.  Build a Travel Capsule Wardrobe
We're huge fans of capsule wardrobe's (which you know by now).  If you haven't read our blog post on how to build a capsule wardrobe, that's a great place to start.  However, in the interest of time, I'll skip the basics and get right to the nuances of travel capsule wardrobing.  
Create a Module.  A module typically contains 6 carefully curated pieces that all work together to make a total of 12 different outfits.  When it comes to travel, however, I like to adjust things a bit and add a few additional pieces as follows:

2 Bottoms

3 Tops

1 Outer Layer (cardigan, jacket, duster, etc)

2 Dresses or Rompers

2 Pairs of Shoes

Choose very versatile pieces.  Brands are getting very intuitive when it comes to accommodating travelers and now it's easy to find clothing that's very versatile.  Look for wraps & cardigans that can be worn in multiple ways, reversible jeans (it's a thing) and dresses that can also be worn as a skirt.  You can easily double your wardrobe by investing in multi-function pieces.
Prioritize Light Layers.  Layering lighter pieces does more than just save a ton of space, it also creates more options.  You can pack an entire module of light layers in the same space that one bulky sweater would use up.
Choose wise Outerwear.  Invest in a packable jacket!  Unlike traditional coats, today's packable jackets fold up into a pocket-sized pouch and take up almost no space.
Pro Tip: If you want to bring a bulky sweater, wear it on the flight!  The same is true for heavier footwear.  You can always take layers off in the air!
4.  Choose Smart Fabrics
When it comes to learning how to pack for carry-on travel, the fabrics you choose are critical.  Why?  Because you'll be re-wearing your clothing multiple times during your trip and if you've built your travel capsule wardrobe out of synthetic materials that don't breathe, you've got trouble headed your way.
Enter, Merino Wool.
Sure, there are plenty of other moisture-wicking, smart fabrics out there.  Yes, we buy them.  Some of the brands we love to shop are Lole, Fig, Tribal, Du/er and many others but when it comes to smart fabric, Merino Wool is our winner.  Here's why:
Absorption / Moisture Wicking – a garment made from 100% merino wool can absorb 35% of its weight in moisture before you feel a thing!  Whether you're trecking through the Nevada hills or walking a new city for hours, you stay comfortable and cool.
Temperature Regulation – Merino wool absorbs and released moisture to keep you cool in the summer and warm and dry in cooler climates (it's a little bit of magic).
Odor Control – The same mechanism that allows this fabric to control temperature also allows it to control odor.  Merino wool can be worn several days in a row in harsh conditions (think back-pacing or rafting expeditions) before it starts to smell.  As long as you hang it to allow for full drying, you're good to go.
Long-Lasting & Easy Care – most pieces can be machine washed and hung to dry.  We've personally had some of our merino shirts (from Icebreaker…if you're wondering) for 4 years and they still look as good as the day we bought them!  
UV Protection – this magic fabric also absorbs UV rays!  Which makes it great for outdoor adventuring.  The strength varies from SPF 20 – 50+ depending on the density and color of the fabric.
But wait, there's more.  Merino wool is also:
Quick Drying

Wrinkle-Resistant

No Itch

Durable (6x stronger than cotton)

Non-Allergenic

Renewable

Biodegradable
Do you pay more for it than something like cotton?  Of course, you do.  Is it worth it?  Every. Single. Penny.

5.  Stay Organized
Learning how to pack for carry-on only is a process, no question.  But, if it's a shortcut you're after – you're in the right place.  Gone are the days when we had to DIY the travel & organization tech to go carry-on only.  Now, there's an endless stream of clever new products hitting the market that make packing a breeze.
Packing Cubes
Packing cubes are life.  Not only do they keep your clothes neat and organized, but they also have COMPRESSION.  Look for a range of packing cube sizes with mesh on the side (that's most of them).  You'll also want to avoid going cheap if you want them to last.  If your goal is travel carry-on only, you'll also want to opt for smaller sizes. (the large cubes will take up your whole bag).
Travel Bottles
If you haven't made the switch to solid body products (see above), silicone travel bottles are great.  They come in 100ml sizes so are compliant and the good ones are leak proof.  They're also squishy, which means you can get every last drop out of them.
Travel Wallets
These days, we all travel with tech.  Keeping your cords, SD cards, drives (if you use them), adapters and charging docks organized is key to a smooth flight.  We love using a travel wallet (with many compartments and pouches) to keep all of our cords organized.  You can also keep essential documents (like your Passport and emergency credit cards) here.
Packable Day Bag
A foldable, lightweight backpack is a super-smart travel move.  Traditional backpacks take up a lot of space and/or would count towards your personal item but a packable daypack is tiny.  These fold up to about the size of a sandwich bag and are perfect for day trips, hiking, and exploring while you're away.
Laundry Bags
Laundry bags are great for packing smaller items (like intimates) but also a necessity when you're traveling with a carry-on only.  They take up no space and keep your clean and dirty laundry separate in your bag.
6.  Pick Your Personal Item
Don't forget your personal items!  A personal item is allowed on most standard flights (but check first).  It should be smaller than your carry-on and able to fit under the seat in front of you easily.  Don't overlook the power of the personal item!  With some clever packing, you'll be able to fit everything you need (and more).
Depending on the type of trip, I'll go back and forth between:
A Backpack

Messenger Bag / Laptop Bag

Oversized Purse or Tote (I'll put a smaller crossbody purse inside)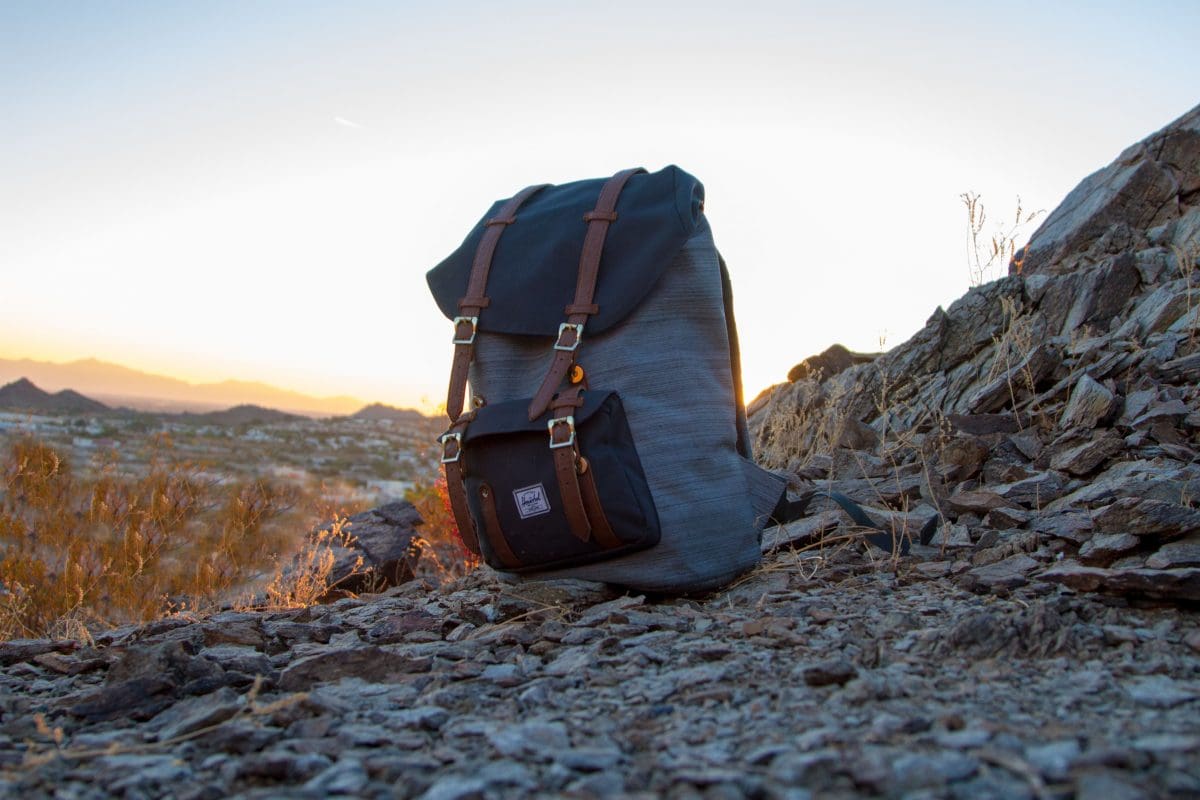 Truly, learning how to pack for carry-on only has made our life so much easier.  Aside from all the obvious benefits like never losing your luggage again or waiting in line at baggage pick-up, it also minimizes any wasted time on your trip.  Without having to worry about what you're going to wear (because everything works together and looks fabulous) you can focus on making memories!  And, hey, isn't that why we travel, to begin with?
Oh, and remember that travel tech I was talking about?  Check out these smart accessories every traveler needs and let the carry-on travel begin!
If you found this helpful I'd really love to know!  Leave us a comment below and tell us if you'd ever consider making the switch to carry-on only.
* This post was sponsored by our friends at Take It Outside.  We ADORE this company and love sharing them with you and vouching for their products and services however, all opinions are our own!  Visit their website at www.takeitoutside.ca to pick up most of the gear listed in this article.